PODS offer event storage where and when you need it.  Events are great fun, whether its a concert, festival, a craft or antique fayre, a charity fundraiser or a trade show. Events help our businesses to be social, gain business and spread the message.  They can also be hard work with all the arrangements and detail that you need to manage in the lead up, during and even after the event takes place.
Our event storage can help to take some of the strain. We can deliver on site storage units to your event for any number of uses.
PODS Containers are the perfect solution for transportation, staging, and protecting consumables, props or signage. Whether you need a single container for a client's wedding, several units for a marathon route, or multiple units at a festival site, PODS can provide all the event storage you need. PODS event storage units will help make your occasion the success it deserves to be.
Charity Event Storage
PODS have worked with some great local charities such as Everton in the Community, Key103 and Rock FMs Mission Christmas and Cash for Kids to name a few.
We have acted as a mobile drop off point to store donations of toys, on site storage for equipment and a mobile warehouse for charity merchandise. Whatever your charity and whatever the event, PODS can help with your storage needs.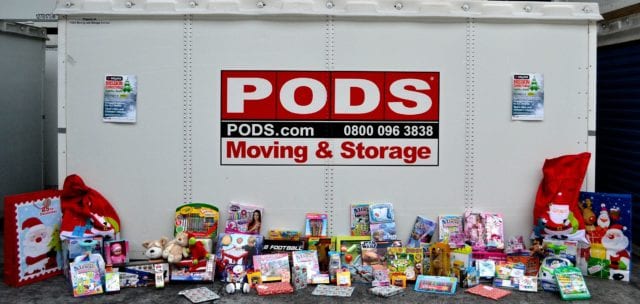 Storage at Trade Shows
If your business needs storage and travel to and from trade shows around the country, PODS can provide the perfect logistics solution. You can use one or more PODS containers to store all your signage, stands, stock and supplies and we can deliver direct to the event venue on the day you need it all there. We have supplied the NEC, VeraModa Fashion Show, Stoneleigh Park, Event City, The Lego Show and many more!
Streamline your logistics with PODS.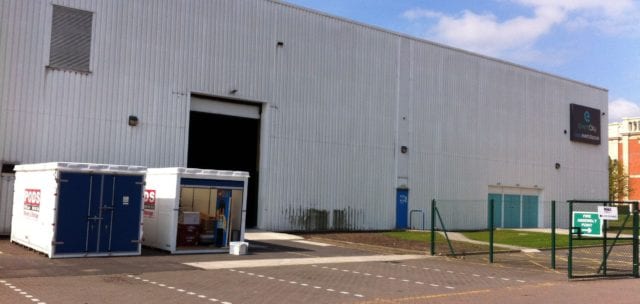 Festival Storage
Putting on a festival takes some serious preparation and organisation. With PODS we can supply mobile storage to your festival location so items you need to store remain close at hand but safe and dry.
We currently supply Pitch Productions and our local friends at the Didsbury Festival with their annual on site storage.
Contact PODS today to find out how we can help with your festival storage needs.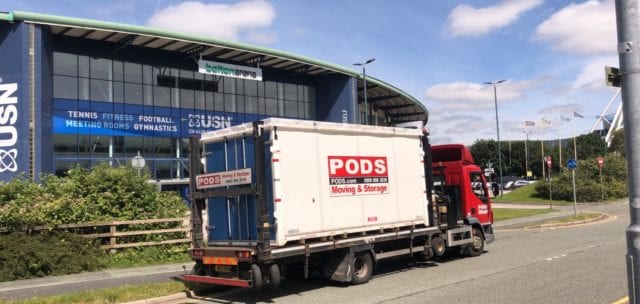 A Memorable Event
A PODS unit can help support your event in any number of ways. They offer convenient, peace of mind as you rush around keeping things on track and dealing with the inevitable issues that occur.
Managing Events In Multiple Sites?
You can reduce costs and avoid logistics headaches by using portable PODS containers instead of dedicated trucks and trailers. From road shows, conventions and marketing events to regional sports events, PODS provides a modular, flexible option. PODS will help you to eliminate double-handling and unnecessary investment.
PODS for Charities
Our storage containers have supported charities as part of their collection campaigns. PODS event storage enables fundraising efforts virtually anywhere. Let the PODS team make deliveries of storage units to your event locations. Afterwards, we'll come back to pick up toys, clothes, bikes, and much more.
PODS offer may benefits over traditional storage options – read more about the benefits of PODS for storage.
PODS event storage can help you:
Keep your property safe, secure and dry
Manage multiple sites with ease
Reduce the costs associated with unused drivers and vehicles
Stay in control as your event rolls out
We can deliver up to 10 units in one go (units can be delivered flat pack and built on site)
Keep them on-site for as long or as short a period as you need
From festivals and wedding fayres to trade shows or sporting events, PODS provides an easy, scalable way to safeguard and transport goods. All without the need to organise and pay for expensive hire trucks.
PODS, Providing you with flexible storage solutions
PODS have been successfully providing flexible event storage to organisers worldwide.  Our flexible solutions have been helping event managers to manage their projects and contributing to the event's success.
That why PODS for event managers is the perfect business partner. Call the PODS team today on 0161 641 7771 to find out how we make your event the very best it can be.