Benefits of PODS Storage Containers for Hire
1. Ground Level Loading
PODS on site storage containers sit at ground level once delivered. You can simply walk your items straight in to them. There are no tail lifts or ramps to contend with, so it makes the loading of your container really easy.
You simply walk heavy or awkward items in with ease rather than having to lift them onto the back of a van or truck. You would then have to  transport them to a storage facility and unload yourself! With PODS we do all the driving for you! You also only have to load and unload once.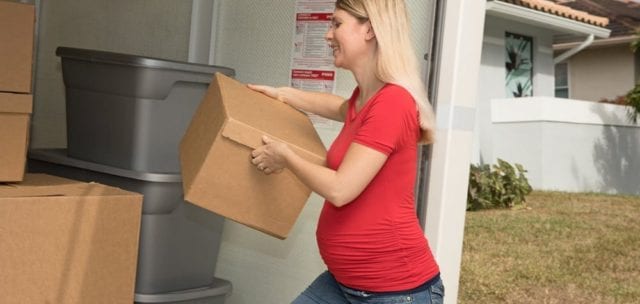 2. Load and Lock
Once you have loaded your items into your container, lock it with your own padlock and you keep the key. We offer both barn door and roller shutter door containers available depending on what suits you best. You can have an on site storage container where the PODS unit stays on your property. Alternatively,  we can collect and store it in our secure storage centre until you need it back. Our unique storage containers are available on long or short term hire and rental contracts.
Your key stays with you at all times so you are the only one ever to have access to your things.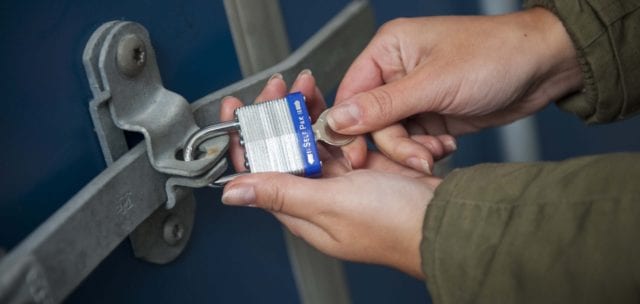 3. Built for You
Our unique PODS storage containers are built with you in mind. They come with a transparent roof to let in natural light so you can see what you're doing when you're inside. They are weather resistant and built to withstand 110mph winds even when partially filled.
PODS storage containers for hire can hold up to 3.4 tonnes and have an e-track system so you can secure everything inside. They also have a wooden floor swept and cleaned after each use.  Your container sits on wooden blocks unlike a shipping container to protect your driveway if you're keeping your container on site.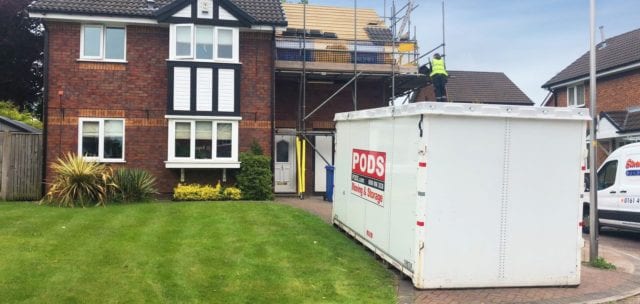 PODS Storage Containers to Hire
Our PODS storage units are designed with you in mind to make moving and storing as easy as possible. With a variety of storage sizes available – PODS on site storage comes direct to your door. Our containers can be lowered down to ground level for loading and because they come to you, you don't need to worry about hiring a van! Our PODS are secure and breathable with a polymer roof – designed to let in ambient natural light so you can see what you're doing when inside.
PODS Storage Containers are fitted with an e-track system so you can secure larger items to the sides. When moved they are lifted with our unique PODZilla lifting system designed to minimise any contents shifting as the containers are kept level at all times. With a PODS unit, you can pack and load in your own time, keeping the stress levels to a minimum.

Moving and Storage, Solved.
Storage that's convenient and cost-effective for you!
At PODS we offer a unique mobile storage solution. We bring the PODS Container to your location, allowing you to load and unload it however and whenever you want.  Our PODZilla container delivery system also lets you sidestep the hassle of hiring a van or facing costly security deposits with standard self storage facilities.
One of the benefits of our storage containers for rent means that there's no double handling of your items. You only load and unload once with PODS. You lock up your container with your own padlock and keep the only key. This allows you to avoid the irritation of loading and unloading numerous times, an issue at many standard self storage facilities.
Other Benefits
Also, our specially designed storage containers for hire can also be stored on-site at your location for easy access. You can keep the storage unit as an on site storage container or we can collect and store for you.
Alternately, you can choose store them in our secure Storage Centre.  With our containers available in three different sizes, you'll also never pay extra for space you don't use.
We offer flexible storage plans which means that the PODS Container is yours for as long as you need it.  Whether you want storage in Manchester, Stockport, Cheshire or you're moving further afield, we can deliver your on site storage container for hire wherever you need it.
Security and Protection – For storage without the strain:
Only you have a key to access your PODS storage container, with our unique security system
Your things are guaranteed to stay safe in transit. PODS weather resistant containers can withstand 110 mph winds (when partially filled)
PODS containers all have e-track multi points, so ropes and bungee cords can secure your belongings whilst inside the container.
Our delivery trucks are fitted with a patented lift system. This will stop your contents from shifting whilst in transit.
PODS offers you extra benefits compared to standard self storage:
You can access your items, 24 hours a day, 365 days a year
You lock the padlock at your address & keep the only storage key
Our Portable on site storage containers offer on or off site storage and your items can be easily transported to a new property or location
There is no need for double handling. You don't need to load and unload your items multiple times
Our storage containers are for hire and rent only. You don't need to worry about buying a unit to have on site when you can just rent one from PODS
Check out this article for How to Choose the Best Self Storage Company which has some great tips to bear in mind when looking for storage.