Self Storage Made Simple!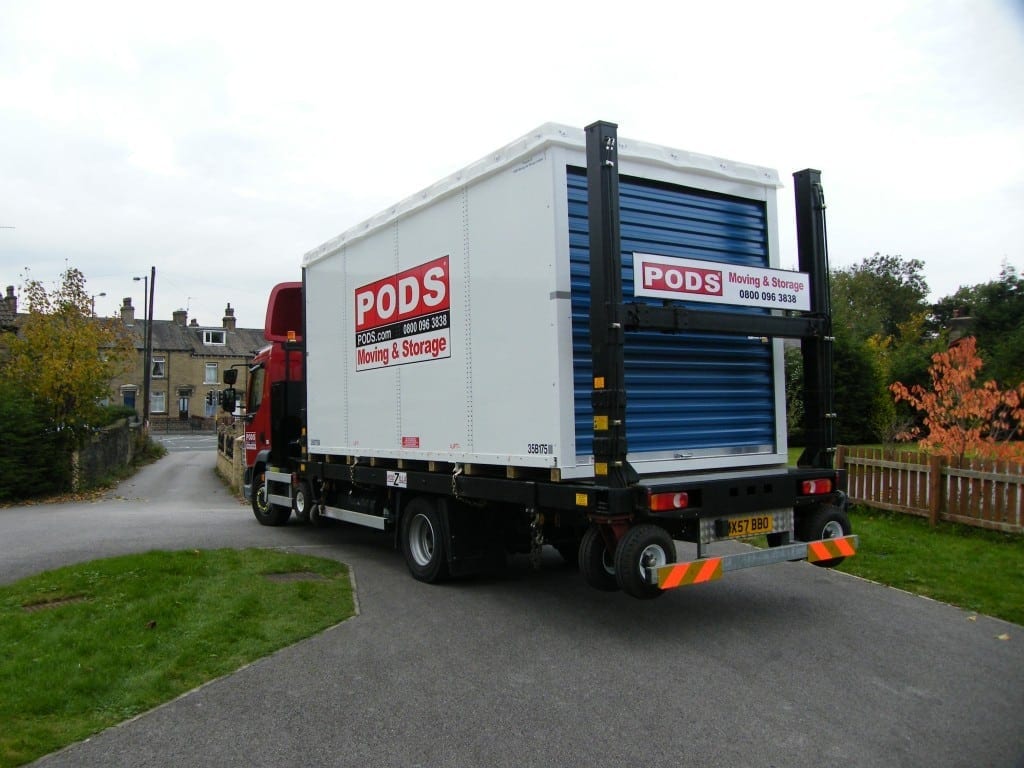 We Deliver
We'll deliver your chosen storage unit direct to your door. Just choose whether you'd like an AM or PM delivery time slot.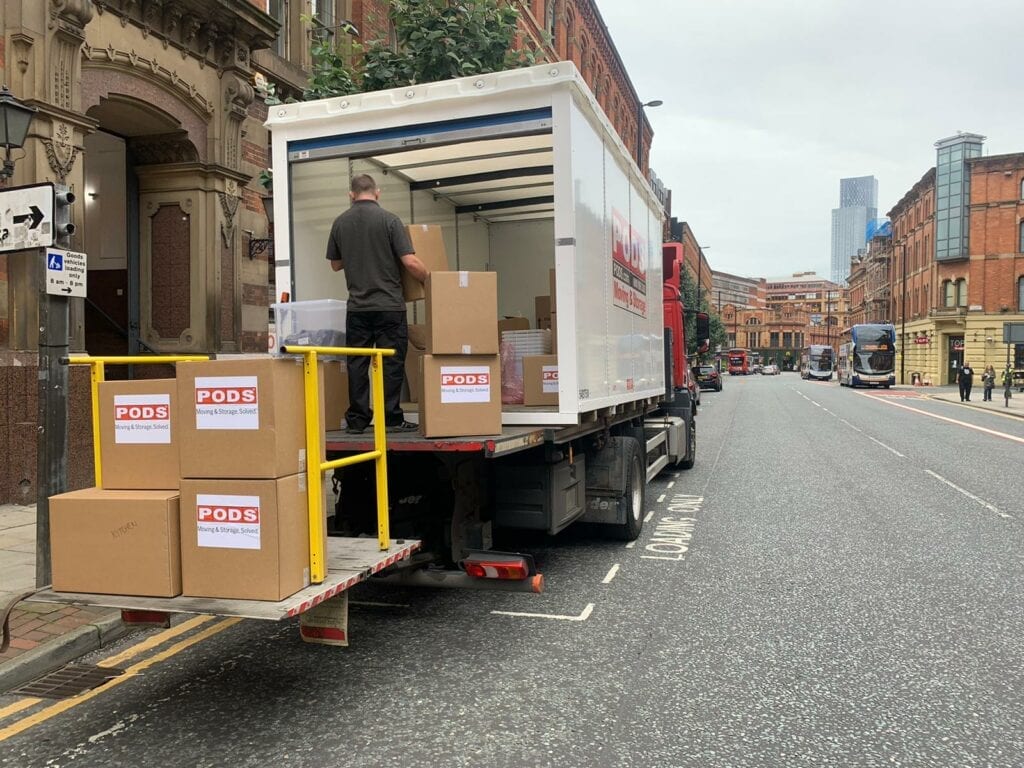 We Load
No need to lift a finger! Our expert loading teams will load everything for you, protecting all carpets and furniture as they go.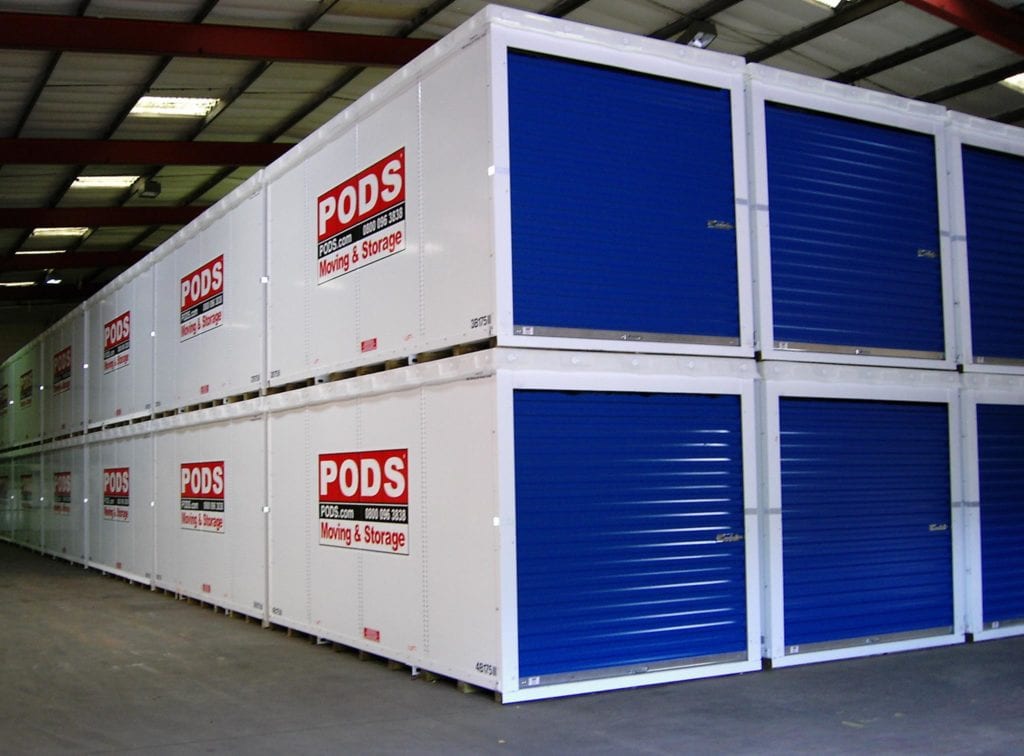 We Store
Your storage unit is kept inside our secure storage centre for as long as you need. Store for a few days, weeks or years - you choose!
The Convenient, Flexible Storage Solution
Whether you're in an apartment in the City Centre or live on a terrace street with no driveway, the Load & Go service is great if you want a flexible and convenient storage that comes to your door. We transport for FREE (within 10 miles), so you only pay for the time it takes us to load, so the only finger you have to lift is the one to book in with PODS.
Are you in an apartment and need extra storage?
Would you struggle to load a storage unit yourself?
Are you tired of traditional self storage sites that are expensive?
Do you not have time to hire a van and get your items to a storage site?
Do you need a cheap self storage solution in Manchester?
If you've answered yes to any of the questions above, then you're in the right place. Give a member of the sales team a call today!
Security Is Key
Once your storage unit has been loaded, it is transported back to our secure storage centre. You can store short or long term, we can be as flexible as you like! We have a security guard onsite 24 hours a day and CCTV in operation 24/7.
Access to your unit can be arranged by appointment only and you can drive up to your storage unit. It's affordable self storage that comes to you.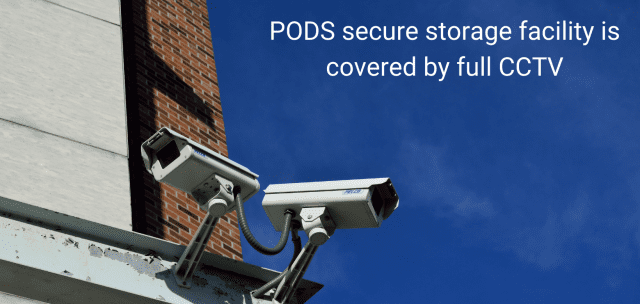 Affordable and Convenient Storage
If you're look for a convenient storage solution that comes to you with the added bonus of FREE transport…
…THEN LOAD AND GO STORAGE IS THE ANSWER
PODS Load & Go storage gives you all the benefits of mobile self storage but with the added bonus that we load everything for you. It's simple, cheap, convenient and gives you extra storage when and where you need it. We deliver, load, then drive your storage unit to our secure storage facility. We have 3 different sizes of PODS containers which are perfect to suit all different types of customers.
HOW DO YOU CHARGE?
The PODS Load & Go self storage service starts from just £84.00 per hour for a 2 man loading team. The transport into storage is totally FREE! The loading time depends on the storage unit you have chosen and the accessibility of your property. We offer time slots from 1, 2, 3 or 4 hours. The time starts when we arrive at your location.
You pay your loading fee up front dependant on the size of storage unit(s) you have chosen…
One 7ft storage unit – 1 hour loading fee taken
Two 7ft storage units – 1 hour loading fee taken
Three 7ft storage units – 2 hour loading fee taken
One 12ft storage unit – 2 hours loading fee taken
One  16ft storage unit – 3 hours loading fee taken
If we need to send more than a two man team due to access issues the loading fee per hour will increase to £130 for a 3 man team and £140 per hour for a 4 man team. If any additional hours if needed once your items have been collected. Remember for a limited time your transport is completely FREE, so you only pay for the loading!
You only pay for the storage units you use, so if you order two but we only use one, that's all you pay for.
Any over payments will be refunded or they can be held on account to be applied towards any future storage fees – you choose!
Within a 10 mile radius of our M12 5AQ storage centre the transport charge is FREE, so you only pay for loading. Outside a 10 mile radius transport may be higher depending on the distance.
We operate Monday to Friday 8:30am to 4.30pm. You have the option to choose an AM or PM loading slot.
DO YOU OFFER INSURANCE FOR LOAD AND GO STORAGE?
Absolutely!
Our Insurance cover is for your items when they are stored at PODS storage centre. They are also covered during transit for your declared value.
When you book, simply declare the value of items you are storing, whether it's £500, £5000 or £25,000 and our insurance bundles start from just £1.25 per week for £1000 cover.
For full insurance details you should see our full terms and conditions.
WHAT DO YOU NEED FROM ME?
Once you have signed your contract, we will arrange a date for your collection into storage.
When we arrive to load, we just ask that you are ready. Our driver can call when we are on our way to you. For our Load & Go storage service we just ask that when we arrive all your items are boxed, packed, and any relevant furniture is dismantled (where applicable) and ready to go.
Once loaded, you can lock your container with your own padlock (we sell new locks if you require one) then we will transport your container to our secure storage facility, where it is fork lifted off the truck and stored inside our secure warehouse until you need it back.
What do our customers say?