Student Self Storage in Manchester
Student Summer Storage with PODS!
We Collect
We Load
We Store
We Return
No Van Hire, No Taxis, No Fuss, just simple student storage in Manchester at a great price.
Our student storage units are delivered to your door, loaded for you and stored for as long as you need. Convenient, Flexible and Secure – that's PODS.
SUMMER STORAGE BUNDLE
COLLECTION, LOADING, 12 WEEKS STORAGE, INSURANCE COVER PLUS LOCAL RETURN
ALL IN AT £250.00
(saving £197.00 on our early bird offer – book ASAP)
Store furniture, chairs, boxes, bikes, books, bedding – whatever you need to.
Our containers can be used individually or you can share your unit with a friend or friends to bring the cost down even more.
BOOK NOW or REQUEST A CALL BACK from one of the team.
Student Storage in Manchester need not be complicated.
We collect, load and store for as long as you need.
When you need us we will deliver your items back to your door.
Interested in Student Summer Storage at PODS?
Fill in a few details below and we will do the rest. You can also request a call back to suit you.
Once you fill in your details we will email you a personalised quote.
Our student summer storage offer is for 12 weeks and can be extended to suit you at just £10 + VAT per week.

PODS offer Cheap Student Self Storage in Manchester and we have a variety of different options to suit your needs. Our student storage offer costs less than £3 per day and includes collection, loading, 12 weeks storage, insurance cover, local return and unloading.
Whether you have just a few boxes, suitcases or a single item or you're looking for a bit more space to store some furniture. Store short or long term with PODS! It doesn't matter if you need to store for a week a month or even a year.  We provide flexible student storage options that suit your needs perfectly.
PODS student storage in Manchester is ideally situated to cater for student storage being less than a 10 minute drive away from the Universities and Campuses. If the University can't store your belongings over Easter, Summer or Christmas then we can help! Maybe you're going abroad to study or on an exchange and you need to store your things until you get back.
We help students from The University of Manchester, Manchester Metropolitan University and The Manchester College.
Students come back to us year after year to take care of their storage needs.
Student Storage Manchester Made Simple!
What we offer…
Collection and Loading (from a Manchester address) We bring the storage unit to you and load everything for you (ground floor collection)
12 weeks Student Storage in Manchester (holds up to 20 large boxes, small items of furniture, chairs, TV etc.)
12 weeks student storage insurance cover up to £100 (can be increased)
Your items are stored in our secure storage facility with CCTV and 24/7 security on site
Local return and unloading of your items INCLUDED (ground floor). Please let us know if you need your items delivering out of area or shipping overseas.
Only have a few bits? Try Simply BoxIt for your box storage needs
Manchester's number one Moving & Storage company!
Get a Quote and Choose a 7ft PODS unit for student storage. Your discount will be applied on booking.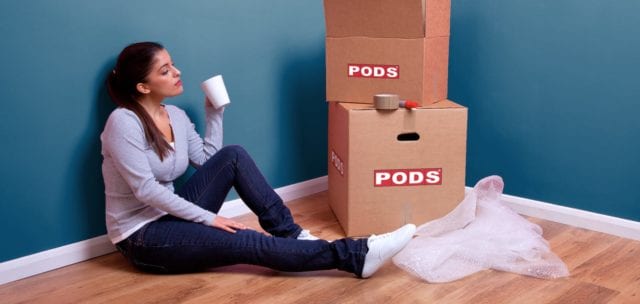 Why Choose PODS for Student Storage in Manchester?
Just a few reasons why you should choose PODS for all your student storage Manchester needs…
No security deposit needed
Insurance included within our SUMMER STORAGE offer
Premium Insurance Cover
Prices fully inclusive of VAT
Online contracts – no paperwork
Have your own space or share a unit with friends
We come to your door
We load your items for you
Use your own boxes or get a student value pack delivered
Completely secure storage
Full CCTV
24 hour Security Guard
Questions about PODS Student Storage in Manchester?