Value v Price – Is Cheapest always better or are there other factors?
PODS is the easily and most convenient short term storage solution. In addition we have found it also offers the best value self storage in in Manchester and Stockport. This is especially true if you're looking to store longer term. We're not just blowing our own trumpet – we have done the research. Read on to find out why…
Yes we know that is a big claim to make but we have done our homework!
Self storage sites are big business and commercial spaces are becoming more and more expensive to run and fit out – especially self storage sites. Overheads are massive and so prices of most self storage rooms and traditional self storage facilities have skyrocketed in the past few years.
HIGH DEMAND = HIGH PRICE?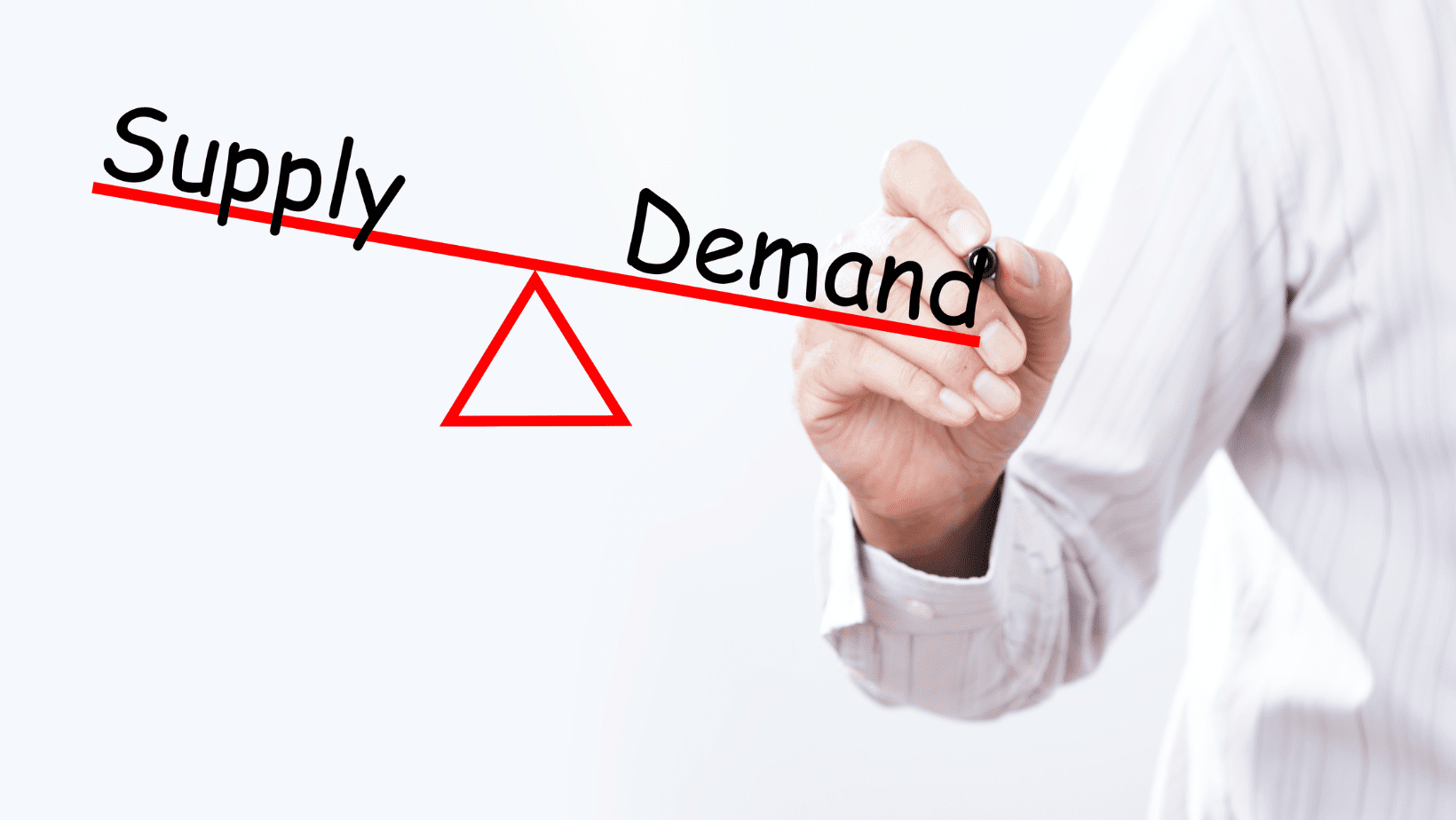 The demand for space is high – and when demand rises so do prices!
At PODS – our overheads are lower and our storage is portable. Because our storage is portable – our storage centre doesn't need to be in a high traffic, high visibility area so our warehousing costs are less. Saying that – we don't compromise on security. We have full CCTV, all containers are locked with your own padlock and we have a 24/7 security guard on site. All pointing to PODS being the best value self storage in Manchester and Stockport. The savings we make are passed onto you – the customer so you can be sure the self storage price you pay with PODS is not expensive – especially when you compare us to the 5 biggest self storage companies operating in Manchester and Stockport.
We compared our prices with those of the big 5 self storage sites in Manchester and Stockport being:
Big Yellow
Safestore (Bryant House)
Access Self Storage
Store First
Ready Steady Store
All names you know and think you can trust… BUT they often have very short term introductory offers that lure you in and within as little as 4 WEEKS they then DOUBLE the price!
You wouldn't be happy if you subscribed to a service that doubled their rate after only 4 weeks so why settle for it with your storage?!
PODS prices are clear from the start. There are no special 4 week half price offers or half price for 12 weeks so you think you're getting a good deal. If you're looking to store for 6-12 months see for yourself below.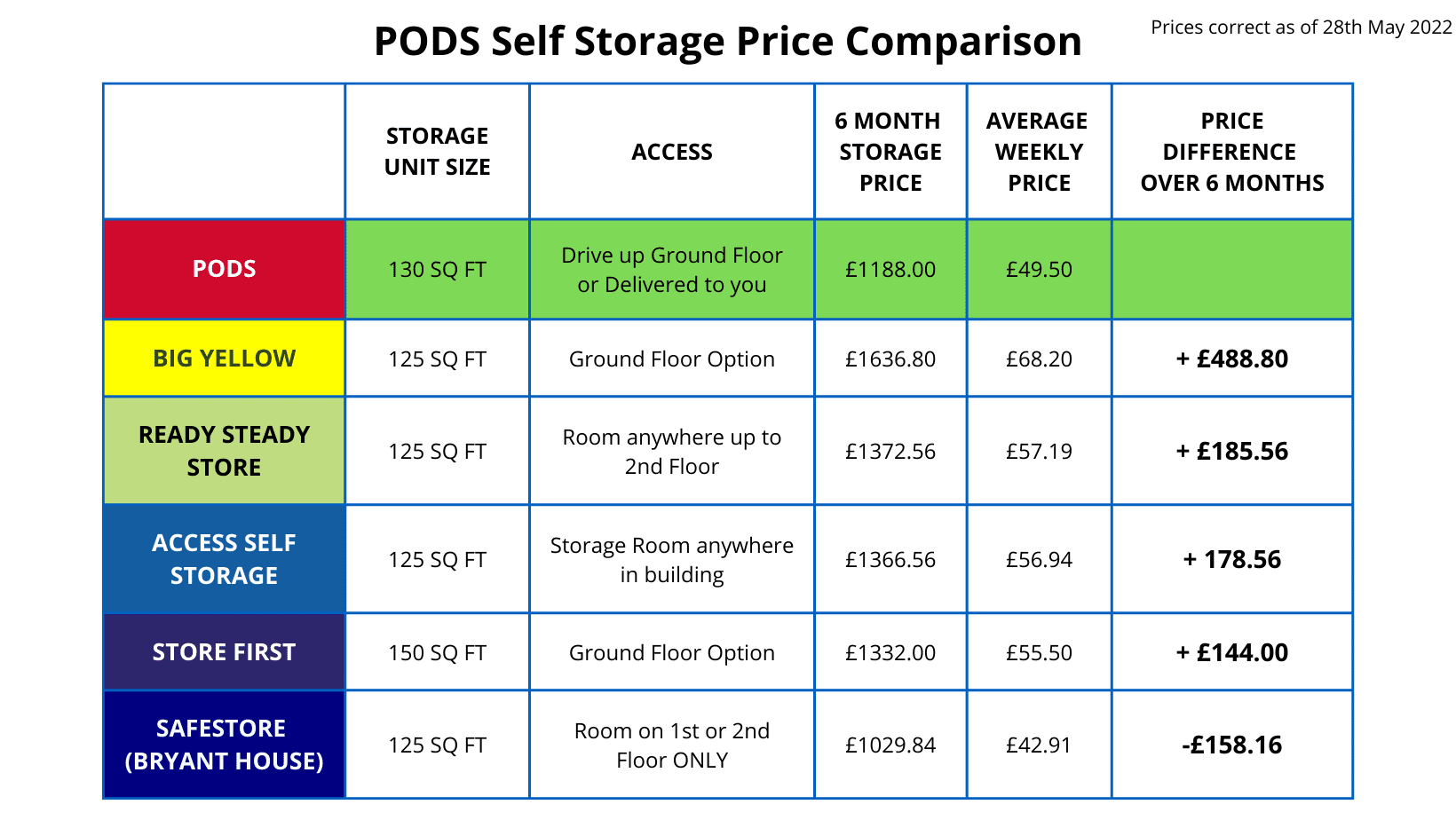 If you need 24 weeks storage:
With PODS in a 130sqft PODS container you would pay = £1188.00
It's £49.50 per week for the duration of your contract – and if you prepay you can even get 20% off making your weekly price just £39.60!
Prepay for 12 months and get 12 weeks free. This makes your weekly price £30.08 – you won't beat that!
In comparison:
Big Yellow (smaller 125sqft room) = £1636.80 – £488.80 more than PODS standard price and £686.40 more than PODS prepay price.
Ready Steady Store (125sqft room) = £1372.56 – £185.56 more than PODS standard price and £422.16 more than PODS prepay price.
Access Self Storage (smaller 125sqft room) = £1366.56 – £178.56 more than PODS standard price and £416.16 more than PODS prepay price.
Store First (ground floor room 150sqft for comparison as no 130sqft option) = £1332.00 – £144.00 more than PODS standard price and £381.60 more than PODS prepay price.
Safestore (smaller 125sqft) £1029.84 – Although the cost for 24 weeks storage comes out at less than PODS, this price is ONLY for 1st or 2nd floor rooms. Meaning you could be hundreds of meters away from your vehicle, having to lug your items up stairs, in lifts and down and around long corridors. No thank you! PODS prepay price for 24 weeks also works out £79.44 cheaper too!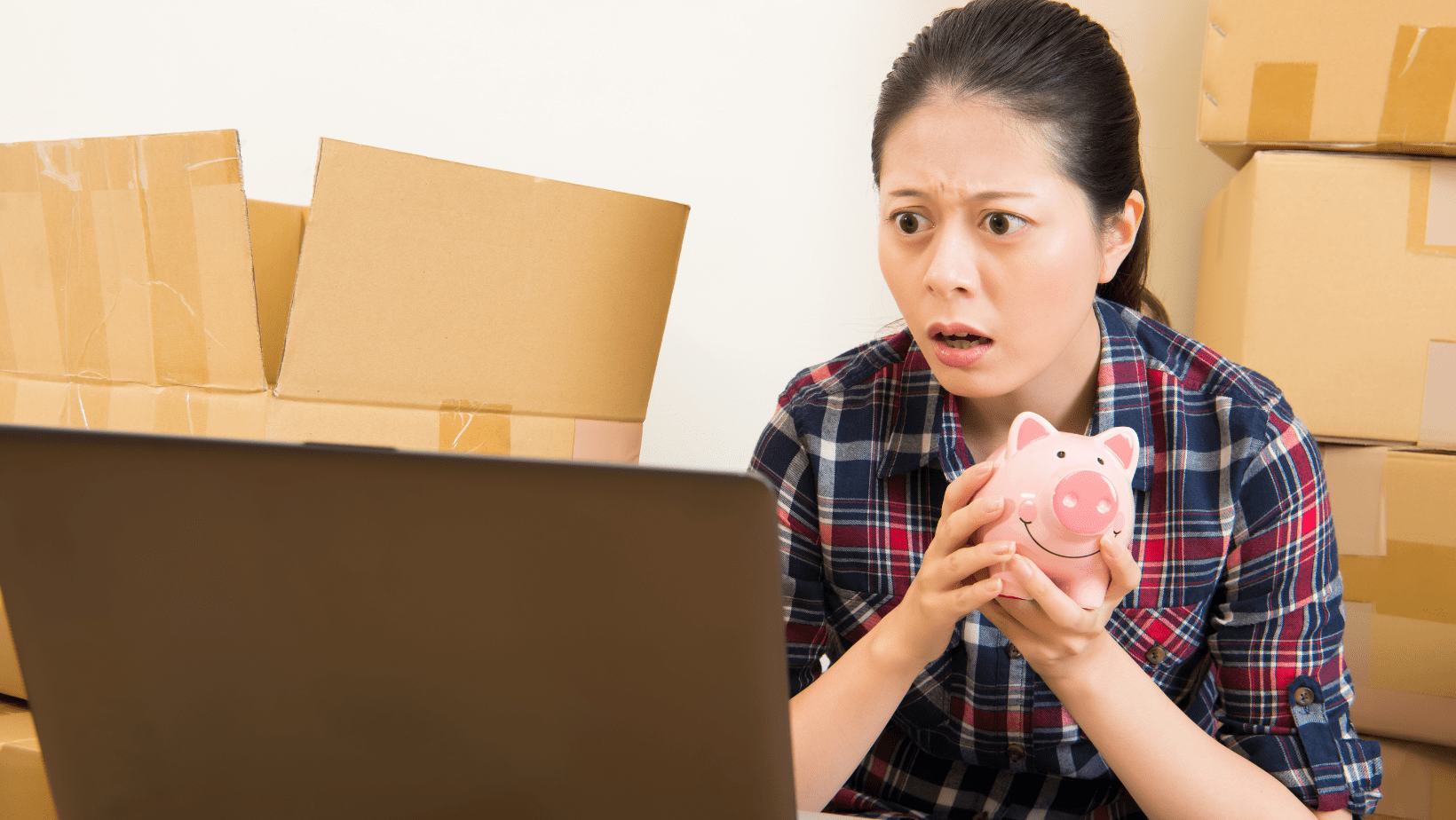 According to our research, you could be paying up to £488.80 more for a smaller storage unit if you go with one of the big 5 self storage companies than if you chose to store with PODS. This figure goes up even more the longer you store so although Safestore looks cheaper for 6 months storage – if you store for longer than this you will actually end up paying more. It's just clever marketing. At Safestore – the price is ONLY for 1st and 2nd floor storage rooms, meaning you'll have a VERY, VERY long walk to get your items into and out of storage.
Don't be fooled by the sales talk and cheap introductory prices. Do your research and if you think you will need to store longer than a few weeks bear in mind your price WILL double! Also cheaper doesn't necessarily mean better. Cheaper can end up meaning it's a real stress and they are just trying to fill up inconvenient rooms and spaces.
We also found that some sites will quote MORE if you are looking to store for 12 months or more. With PODS – if you prepay for 12 months you actually get 12 weeks totally FREE! Not many can compete with that offer.
CONVENIENCE WITH PODS FOR SELF STORAGE
In the big self storage facilities – you are not guaranteed a ground floor room. You may have to go down multiple corridors and use lifts to get your items to and from your storage room. You have to double handle everything, taking it from your house, to your car/van, into storage, onto a trolley, to your storage room and the same again to come back out again! Phew. Even if you are lucky enough to bag yourself a room on the ground floor – you may find it is down multiple corridors and a long walk from the car park, parking or loading bays.
This is the case with the Safestore units at Bryant House. Although it works out slightly cheaper than PODS for storage over 6 months (their standard price is still more expensive) you will have to get your items up to the 1st or 2nd floor and you may be located hundreds of meters walk from your vehicle.
With PODS – we deliver the storage to your door. What could be more convenient than that? If you prefer to bring your items to us directly – we can make one of our PODS containers available for you to drive right up to – unloading your items straight into the container at ground floor level.
At PODS – we are not only cheaper but much more convenient too!
IN SUMMARY – WHY DOES PODS OFFER THE BEST VALUE SELF STORAGE IN MANCHESTER?
So there you have it! An honest look and comparison at the biggest self storage companies in Manchester and what you get for your money.
Bear in mind – the cheapest option isn't always the most convenient. This is the case with Safestore's Bryant House option and if you're storing longer term it's not only inconvenient but more expensive too!
Self storage doesn't have to be stressful, expensive or time consuming. At PODS we really believe in what we offer and are passionate about our products and service. Try a new way to store – we might just surprise you!