How PODS Moving & Storage Works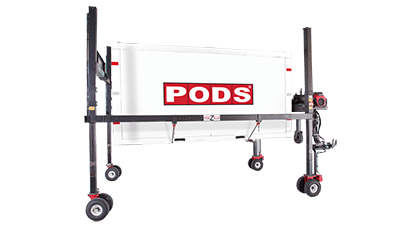 We Deliver
We deliver an empty PODS Container to your location, whenever and wherever you need it.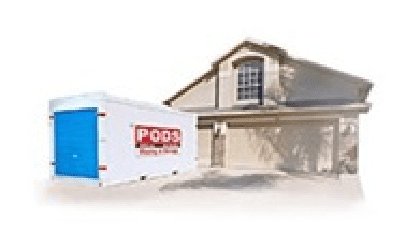 You Load or We Load
Load the PODS Container your way, in your own time; or we can load it for you - you choose!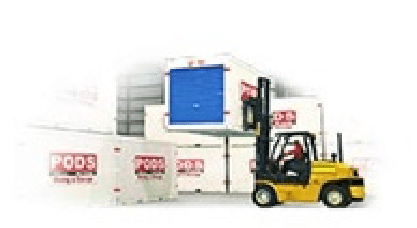 We Store
Keep your PODS Container at your location or we can store it in our secure Storage facility.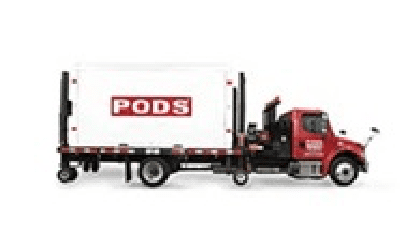 We Move
If needed, we can move your PODS Container locally, across town or even across the country.
Moving & Storage In Manchester

as seen on Sky's TV UK network
Learn more about our containers
PODS storage units are designed with the customer in mind, making moving and storage in Manchester easier than ever.
You can see all of benefits of our containers here. With a PODS storage unit, the container can be packed and loaded in the customers' own time, keeping the stress to a minimum. PODS Manchester is the only UK franchise offering the unique PODS storage containers.

Moving & Storage, Solved!
Manchester Moving
PODS Moving and Storage in Manchester is part of a global operation and so far we have helped move over five million customers worldwide. We know how stressful moving house can be!
From your initial survey, throughout the planning process and right through to the move itself, our professionally trained teams will be there to ensure your whole move runs without a hitch.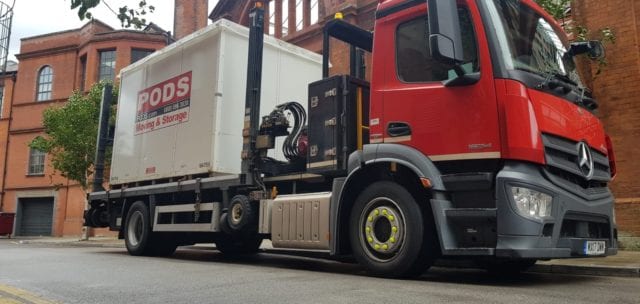 Manchester Storage
PODS offer storage in Manchester is unique. No other storage company can do it in quite the same way. It's the most convenient, user-friendly and hassle-free way to manage your self storage needs.
Because we come to you, we make self storage easy by bringing the storage unit to your door.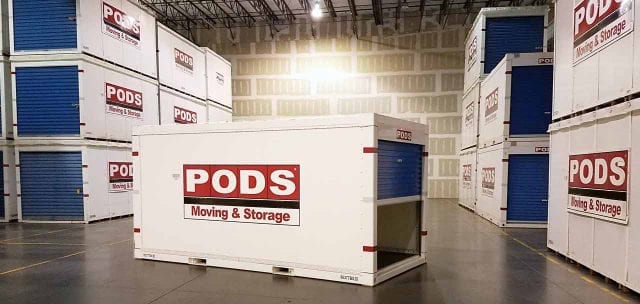 Manchester Load and Go
The PODS Load and Go Service is great if you want all the benefits of PODS but don't have room to keep a storage unit at your property.
This is an ideal solution if you live in Manchester City Centre or don't have room on your drive or road to keep the storage unit. We will deliver direct to your property for you to load, then we'll transport it and store it in our secure storage facility. Load and Go is convenient, easy and more cost effective than using a traditional Manchester removal company.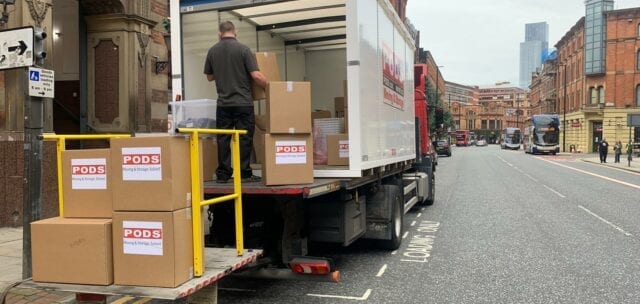 Moving & Storage In Manchester
built around you
PODS are different to other Manchester based self storage companies. You don't need to transport your goods to a traditional Manchester self storage facility to load and unload. We bring the storage unit to your door. The PODS team will use our patented PODZilla lift system to deliver your PODS storage unit. We can deliver to your home or business, so you can load at your leisure.
We provide flexibility.
There's no need to hire a van or ferry goods back and forth. The PODS moving and storage service saves you time and money. Your PODS storage unit can stay on-site with you for ongoing use for as long as you need.
And if you want to get your items out of the way, we'll pick up your storage unit for storage at our secure Manchester storage facility. PODS keep things easy and stress free.
With PODS, Service Comes As Standard
PODS offer a whole host of other useful services in Manchester and the North West. Alongside storage, we offer Commercial Storage, Business and Office relocations and Emergency storage and Secure Warehouse storage. We're based in the Manchester and cover the whole of the North West. The PODS concept was brought to the UK in 2010 and has grown from there. We can go further afield if you are moving to or from Manchester or the surrounding areas.
Whatever you need, we have a moving and storage solution to suit you.
Over five million customers worldwide trust PODS to manage their storage and moving needs. Our teams in Manchester are all uniformed and are experts at what they do. We guarantee to make the whole process trouble-free. You can rely on PODS for moving, storage and exceptional customer service. All at an unbeatable price.
Call the friendly PODS team today on 0161 300 9712 to find out more about what makes our service so unique. We won't disappoint!
Only Have a Few Boxes to Store?
So you only have a few boxes or small amount of furniture to store?
Simply BoxIt (our partner company) provides box storage in Manchester for boxes and small items from just £4.50 per box, per month.
This makes it perfect for students, short term storage, de-cluttering or longer term storage for boxes during travelling!