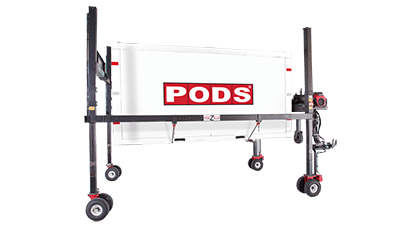 We Deliver
We deliver an empty PODS Container to your location, whenever and wherever you need it.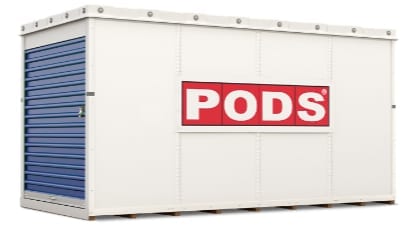 You Load or We Load
Load the PODS Container your way, in your own time; or we can load it for you - you choose!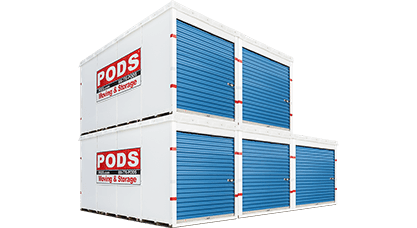 We Store
Keep your PODS Container at your location or we can store it in our secure Storage facility.
Emergency Storage Units from PODS
At PODS, we offer a responsive, emergency storage service. If you suffer a fire, a flood or damage to your property, we'll quickly deliver one of our PODS emergency storage containers direct to your home or business so you can salvage and store your belongings. You can store on or off site with a PODS container. We can remove the container if there is still a risk or the container can remain on site so you have access to your things.
No other company can offer emergency storage units direct to your door. An on-site PODS storage unit takes the stress out of a difficult situation.
We work closely with some of the largest insurance companies in the North West and UK helping their policyholders with short notice emergency storage units – delivered when and where they need them.
Our service covers:
Flooding or fire damage to your home or business
Insurance claims so you can remove your belongings while damage is assessed
When your premises cannot be properly secured – a PODS container is secure and dry
Personal emergencies that need urgent storage
Situations that require fast and cost-effective emergency storage
Our responsive service includes both transport and storage support. You can choose to keep the emergency storage container on your property or at our secure storage centre, whatever works best for you.
Emergency Response Reviews
Rapid Response Storage from PODS
Storage units delivered direct to yours or your clients door
Salvage belongings and store them on-site or off site in a PODS emergency storage container
We work with the UK largest insurers like AXA, Aviva, Legal and General,
PODS emergency storage units come in various sizes
Delivery all across the UK from our central Manchester depot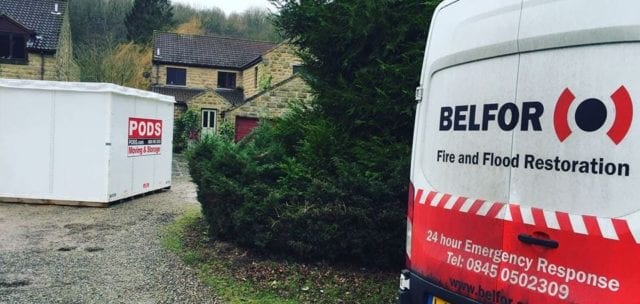 Input items below to work out the best size emergency storage container for you.
How much storage space do you need?
Please enter your data below to determine what you need.
Items
Sofa small

Sofa large

Sofa medium

Sofa bed

Cabinet large

Armchair small

Armchair medium

Armchair large

Armchair recliner

Coffee table

Sideboard large

Sideboard small

Cabinet medium

Sideboard medium

Bookcase tall

Welsh dresser

Grandfather clock

Grand Piano

Piano baby grand

Piano upright

Bureau

TV tube large

Writing desk

Rug large

Hi fi

Bookcase small

TV tube small

Large plant

Cabinet small

CD tower

TV flat screen large

Mirror large

Footstool

Lamp floor

Hi fi speaker

Piano stool

Nest of tables

Bags

TV stand

Pictures large

Large box

Tall box

Boxed already 3cuft

Rug small

Table lamp

Small box

VCR/DVD/Bluray

Indoor plant

Small box

Small table

Mirror small

TV flat screen small

Satellite/Freeview box

Small Archive box

Large Archive box

Pictures small
Welsh dresser

Large dining table

Cabinet large

Medium dining table

Sideboard large

Small dining table

Sideboard medium

Bookcase tall

Cabinet medium

Sideboard small

Bookcase short

Cabinet small

Dining chair

Mirror large

Tall box

Pictures large

Large box

Rug small

Table lamp

Small box

Boxed already 3cuft

Mirror small

Pack 6

Small table

Pictures small

Sundry cuft
Bed divan queen size

Bed divan king size

Bed bunk

Bed divan double

Wardrobe single

Wardrobe double

Wardrobe triple

Chest of drawers large

Sofa bed

Bed frame king size

Bed divan single

Bed frame queen size

Futon

Bed small childs

Chest of drawers medium

Chaise longue

Bed frame double

Dressing table

Bookcase tall

Chest of drawers small

Nursery chest/dresser

Bed frame single

Bookcase short

Cot

Play pen

Occasional chair

Trunk

Indoor plant

Chair rocking

Ottoman box

TV flat screen large

Wardrobe

Mirror large

TV stand

Bedside cabinet

Clothes basket

Chair child

Suitcases

Picture large

Pack 2

Table lamp

Boxed already 3cuft

Small table

Pack 6

Mirror Small

Picture small

Sundry cuft
Meeting table

Office desk

Table

Photocopiers

Fridges

Server cabinet 6ft

Computer desk

Filing cabinet 4 drawer

Server cabinet 3ft

Filing cabinet 2 drawer

Swivel chair

Executive chair

Static chair

Computer desktop

Tall box

Fan

Printer

Pictures large

Large box

Desk pedestal

Crates

Pack 2

Boxed already 3cruft

Printer network

Small box

Hard drive

Pack 6

Monitor flat

Fax machine

Archive boxes

Computer laptop

Computer monitor

Sundry cuft

Pictures small
Fridge freezer US style

Freezer chest

Freezer tall

Fridge freezer

Kitchen cabinet

Cooker range

Freezer or fridge small

Washing machine

Dryer

Cooker large

Dishwasher

Cooker small

Table breakfast

Air con unit

Baby high chair

Dehumidifier

Indoor plant

Cabinet small

Microwave

Mirror large

Tall box

Chair breakfast

Picture large

Large box

Pack 2

Stool

Bin

Boxed already 3cuft

Small box

Pack 6

Mirror small

Ironing board

Picture small

Sundry cuft
Trampoline

Pool table

Table tennis table
Cabinet small

Pack 2

Large box

Small box
Sideboard large

Sideboard medium

Sideboard small

Hall table

Mirror large

Pictures large

Large box

Mirror small

Indoor plant

Small box

Pictures small
Tall box

Large box

Small box
Ride on mower

Snooker table 6ft

Climbing frame

Tall plastic shed

Wendy house

Canoe

Garden bench

Picnic table

Swing

Workbench

Garden lounger

Garden chest

Ladder

Portable BBQ

Slide

Large outdoor plant

Garden table

Sandpit

Tool case

Car roof box

Bicycle

Weights machine

Running machine

Exercise bike

Rattan chair

Wheelbarrow

Parasol

Medium outdoor plant

Step ladder

Tool cabinet

Mower petrol

Garden ornament

Tall box

Garden chair

Mower elec

Outdoor bin

Heater gas

Spare tyre

Child's tyre

Skis snowboard

Pushchairs

Strimmer

Small outdoor plant

Pack 2

Boxed already 3cruft

Garden hose

Stacking chair

Folding chair

Golf clubs bag

Pack 6

Sundry cuft
Results
Suggested Sizes
Receive an email with your inventory
The ideal solution…
Because we bring the emergency storage units to you, that makes PODS the ideal solution, especially when you have a million and one other things to do.
We designed our PODS storage units with our customers in mind. Our containers are great for emergencies and are designed to be secure with a steel exterior, polymer breathable roof to let in ambient light and internal wooden floor. They are lowered to ground level so it makes loading and unloading them really easy. PODS containers all have e-track multi points, so ropes and bungee cords can secure your belongings whilst inside the container. When moved, they are lifted with our unique patented PODZilla Lifting System – designed to keep the container level at all times.
With a PODS unit, you can quickly get your at-risk possessions safely out of harm's way. We can supply one or multiple storage units depending on your
needs. With years of experience helping businesses and homeowners, PODS will help to lessen the impact of an emergency. We work with major insurance companies and restoration firms to enable claims to be dealt with quickly and efficiently, keeping your belongings safe for you.
PODS, We're Here To Help
We're here to help you when things get tough. We understand the damage an unforeseen emergency can create both personally and professionally. And we know moving and storage like no one else.
We hope disaster doesn't strike but if it does call on 0161 300 9712 and we'll swing into action.
The PODS Team will arrange to drop off a PODS emergency storage unit at your home or business and will be happy to offer you any advice you may need.
With PODS, you and your possessions are in safe hands.