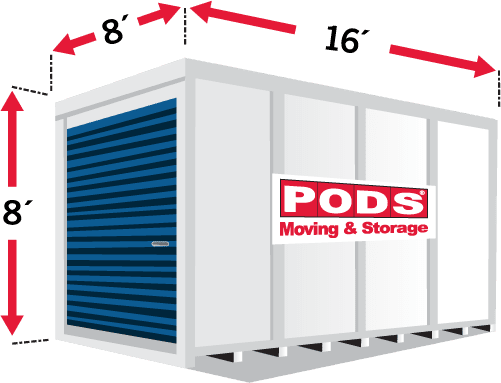 Large - 16ft Container
130 sq feet
This is PODS Container size is the size of a large garage space. It will typically hold the contents of a 2 – 3 bedroom property depending how heavily furnished it is or not. Its our most popular unit for using for both moving and storage services.
16ft Container - Show More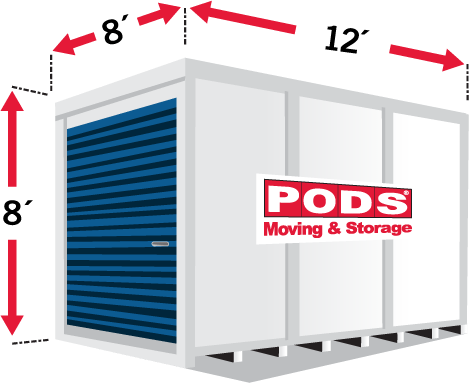 Medium - 12ft Container
100 sq feet
This PODS Container size is the size of a single garage and will likely hold the contents of an 1 to 2 bed apartment or small house.
12ft Container - Show More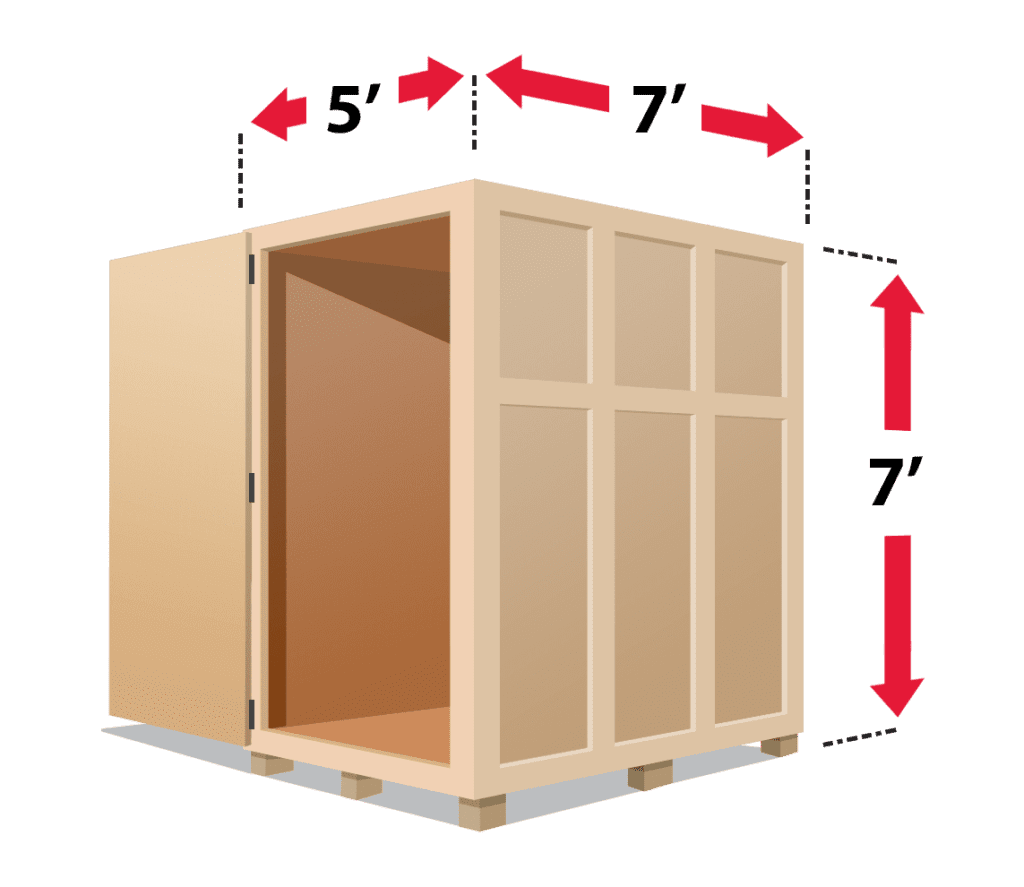 Small - 7ft Container
35 sq feet
The size of a garden shed. Ideal for for decluttering. You'll be able to store a number of boxes and small furniture in one of these units.
SPECIAL OFFER – 50% OFF 8 WEEKS STORAGE ON THIS SIZE – PAY FOR 4 WEEKS AND YOUR NEXT 4 WEEKS ARE FREE!
7ft Container - Show More
*Measurements taken from the exterior of the container. The amount of space needed can vary based on the amount and size of furniture in your home and the additional goods stored in your garage, cellar, sheds and garden. Please be sure to include all of your rooms, and remember that you can stack your goods inside your PODS container. All containers are fitted with e-track so securing furniture inside the container is nice and easy.
PODS state-of-the-art containers
We demonstrate our commitment to reducing the risk of damage to your belongings. Here are some of the features that set us apart from the competition:
Sturdy construction: PODS moving containers are steel-framed and weather-resistant.
Tie-down hooks to secure your belongings.
Steel locking latches.
You own the only lock and key for extra security

and peace of mind.

Ground-level loading and unloading.
Our containers are tested to withstand winds of up to 110 mph when partially loaded.
PODZILLA® patented lift system: PODS containers are moved using our revolutionary level-lift system designed to keep containers – and their contents – level while being loaded onto and off PODS trucks.
PODS containers are available in two different sizes, we offer the very best to our customers. For our unique mobile storage service or simply secure self storage, accessible to you 24/7. Our containers are designed with the customer in mind. We also have our smaller PODS 7ft storage vaults, these are perfect if you need a slightly smaller space if you're de-cluttering or just storing a few "bits", boxes or furniture. See more on our PODS Vault small storage units here.
Our portable storage units are built with you in mind
We understand that everyone's needs are different. Not just in terms of the size of storage you require, but also in relation to your schedule and budget. You may want to use one small container now and at another point, require one large container outside your front door by tomorrow. Either way, we're happy to adapt our storage service to your needs!
How Much Are Storage PODS?
We tailor a service to your needs, so depending on how long you plan to store for, could depend on the price you pay. We have various storage offers and incentives, so please ask and member of the team, who give you the most cost effective offer for you. Read our blog on our container sizes guide.
More Information regarding our PODS Storage Containers
In cost effective terms, the smaller portable storage units enable you to store the equivalent of 1-2 rooms worth of your belongings into one moderately sized PODS container at a very reasonable price. We offer good value throughout all PODS container sizes, and we realise that for larger sized or more cluttered homes, the 12ft and 16ft containers are the perfect sized for many of our customers needs. Because we deliver them to you, there is no need to hire a van as you can load straight into one of our containers at your door.
Our container storage units are all constructed in a way that makes self storage as easy and practical as possible, so loading your container can be done in a quick and practical fashion, without unnecessary physical strain! The container is lowered to ground level and placed on the road or driveway, so loading is easy as you walk your items straight in.
We take just as much care when your possessions are in transit with us. PODS containers are all weather resistant, and when partially filled, have been tested to withstands 110mph winds. Our patented PODZilla Lifting System also makes certain that your contents won't shift whilst in transit.
You can give our team of experts a call to discuss the right PODS Container size for your needs or see our PODS storage calculator so work out the space you need – 0161 300 9712.