SELF STORAGE SIZE GUIDE – HOW MUCH SPACE???
It can be a difficult question to answer when you need self storage in Manchester. How much storage space do I actually need? It's hard to visualise and quantify your home or items into a specific self storage size or certain size of PODS container. That's why we have put together some handy ideas and a self storage size guide for our self storage containers, what they may hold and the size of property we recommend for each storage unit/s.
Nobody wants to pay for storage space they don't use. But what's even worse is discovering that you need more space after you've loaded most of your stuff. However, the good thing is – if you book your PODS container in advance, you will know if you need more space well ahead of your move. Much better than hiring a van and finding out it's not big enough on moving day!!! The handy table below uses the square footage of your home, and how heavily or lightly furnished it is, to approximate the container size or multiple sizes that best suit your needs.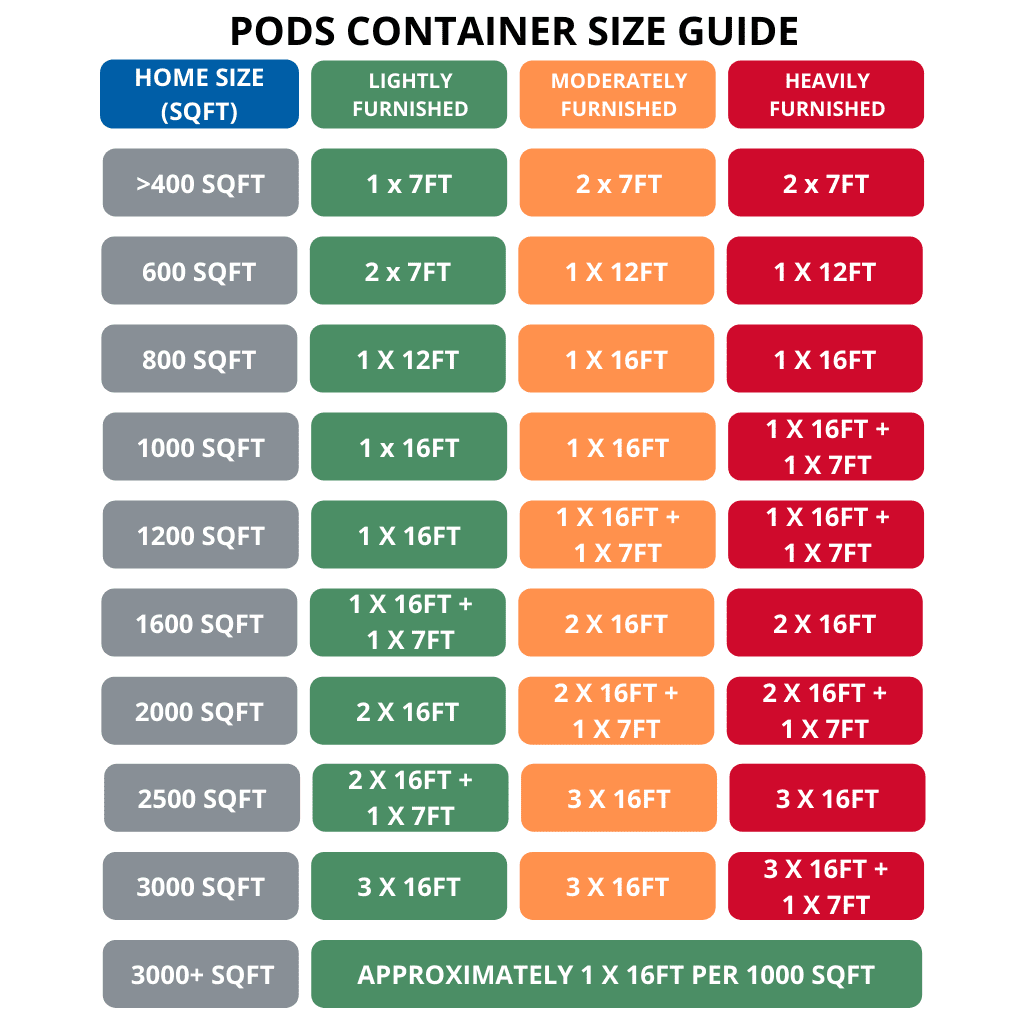 If you do not know the square footage of your home then the following may also help you. It is also useful to know the requirements needed for the delivery of our PODS self storage containers. They are delivered using our unique PODZilla lifting system.
7ft PODS CONTAINER
If you're looking at decluttering or box room type storage. We recommend our smallest 7ft PODS container which holds around 50 large boxes or items of furniture. Remember sofas can be stood on their end if required and items can be stacked right to the top as its 7ft tall inside! The 7ft PODS container gives you 35sqft of space and is approximately 5 feet wide by 7 feet deep and 7 feet tall. We deliver and load this unit for you, so you don't need to lift a finger. You just need to make sure all your items are boxed, packed, dismantled (where appropriate) and are ready to go!
Read more about the 7ft Load & Go service.
12ft PODS CONTAINER
If you have a small 1-2 bed apartment or a 1-2 bed house (not too heavily furnished) we would recommend our 12ft PODS container, it's the size of a small garage so should be perfect for this size of property. It is 12 feet long, 8 feet wide and 8 feet high, so there is plenty of head height to move around items inside and stack them to the top of the container to maximise your self storage space. The 12ft PODS container is the smaller of our 2 containers available for on site storage, so many of our customers use this during renovations or when moving a smaller or limited house contents. Our 12ft PODS Container gives you 100sq feet of self storage space if you are comparing us to traditional self storage rooms.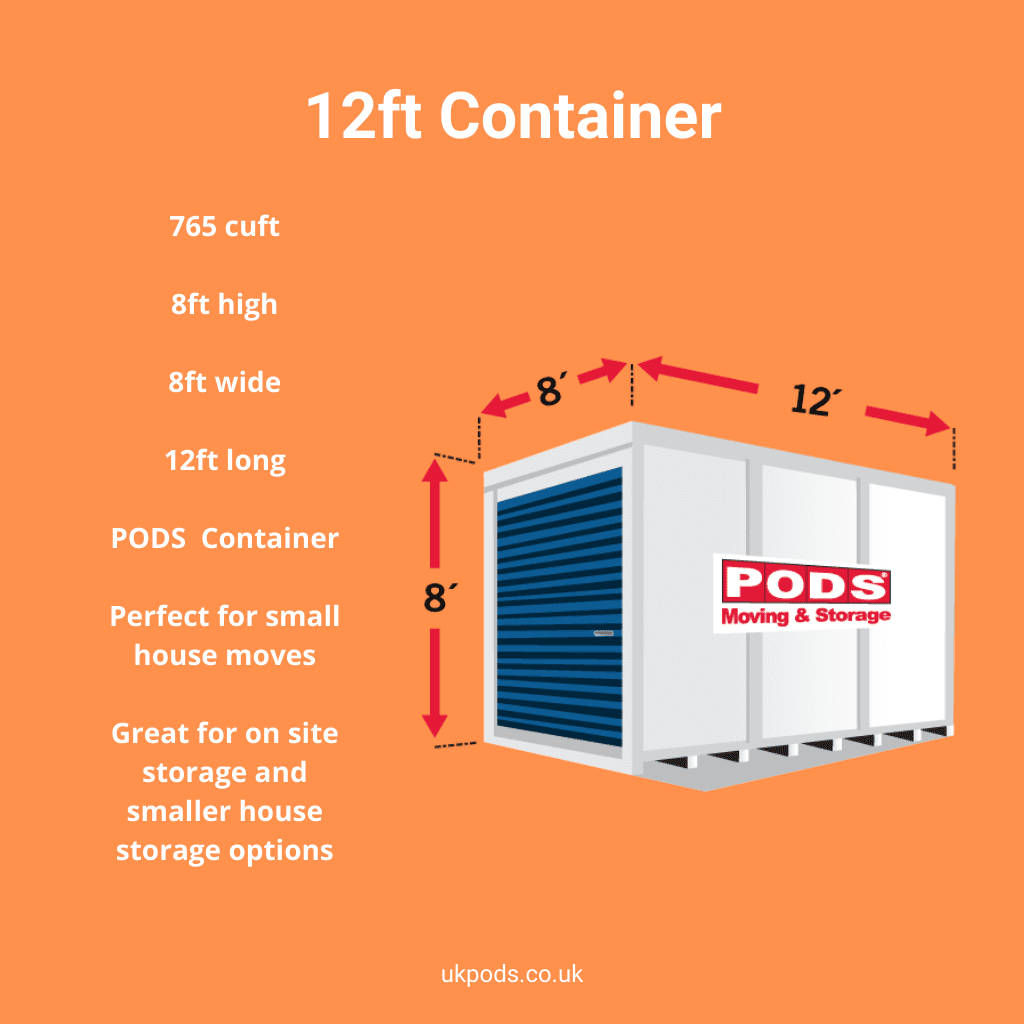 16ft PODS CONTAINER
This is the largest single container we offer. At 16 feet long, 8 feet wide and 8 feet tall it is the same width and height as the 12ft PODS container but is an extra 4 feet in length. We recommend the 16ft PODS container for 2 bedroom properties and up to a 3 bedroom house in some cases. It all depends on how much "stuff" you have to move and store from your property as to what size you will need. This is our most popular size for both moving house and self storage. The 16ft storage unit provides around 1000 cubic feet of space or 130sq feet if you are comparing to other self storage sizes.
Multiple containers can be provided for larger moving and storage needs. We can deliver one container for decluttering all your non essentials prior to your move, which can be really helpful to clear some space. Have a look at our handy Storage Calculator and if you input your items it will give you a really good insight into the size of container or number of containers you may need.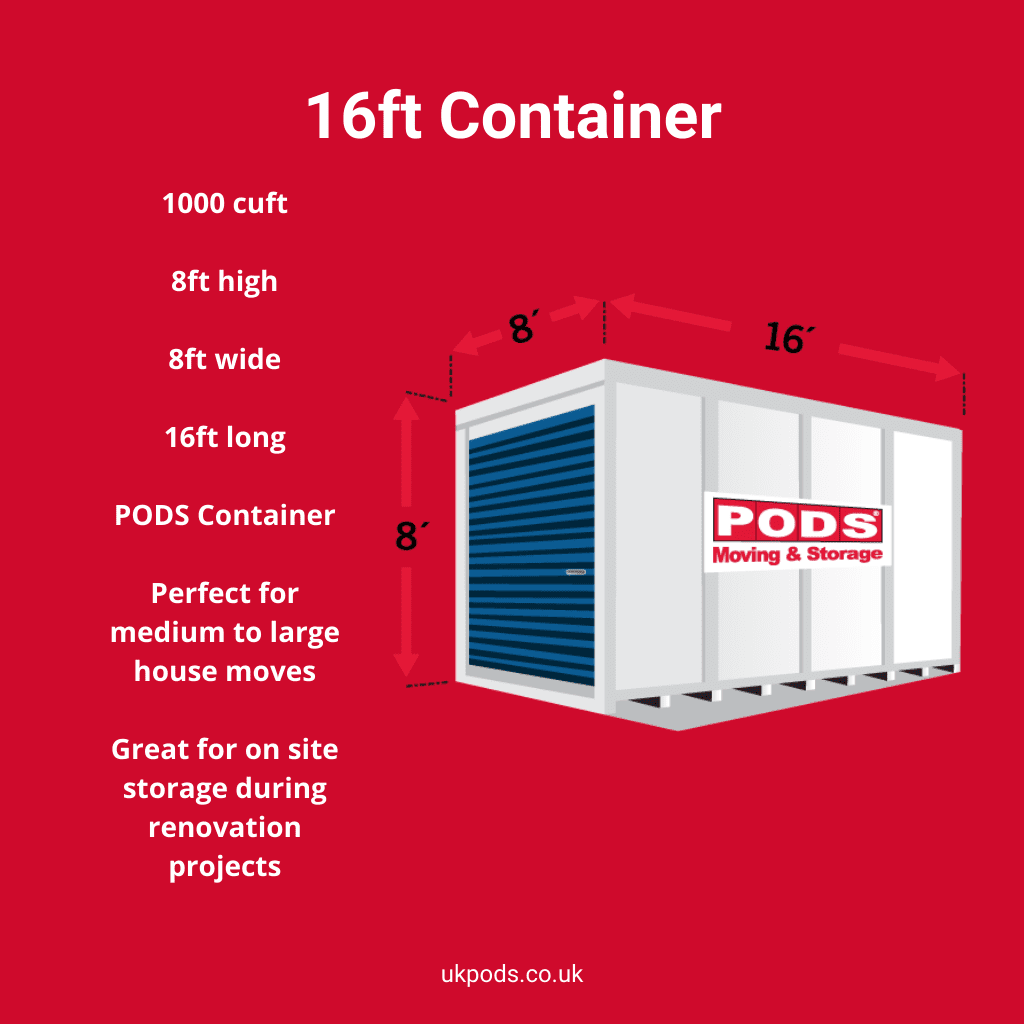 I'M STILL NOT SURE  SO HELP ME WITH SELF STORAGE SIZES!
It depends how heavily furnished your property is with regards to the items you are putting into storage.  Remember to take into account any outside space, sheds and garages as these spaces are often forgotten about if you're moving and need storage. These spaces can be really quite full with boxes, crates, tools, furniture and appliances.
Also some things do stack better than others. If you have a lot of awkward or very large items, you may find you need a larger space than anticipated. It is always better to slightly over estimate that under to estimate when it comes to self storage spaces. You don't want things to be crammed in too tightly and you want to make sure your furniture is protected properly.
Visit PODS Container Sizes to see all of the options available.
PODS Storage Calculator
How much storage space do you need?
Please enter your data below to determine what you need.
Items
Sofa small

Sofa large

Sofa medium

Sofa bed

Cabinet large

Armchair small

Armchair medium

Armchair large

Armchair recliner

Coffee table

Sideboard large

Sideboard small

Cabinet medium

Sideboard medium

Bookcase tall

Welsh dresser

Grandfather clock

Grand Piano

Piano baby grand

Piano upright

Bureau

TV tube large

Writing desk

Rug large

Hi fi

Bookcase small

TV tube small

Large plant

Cabinet small

CD tower

TV flat screen large

Mirror large

Footstool

Lamp floor

Hi fi speaker

Piano stool

Nest of tables

Bags

TV stand

Pictures large

Large box

Tall box

Boxed already 3cuft

Rug small

Table lamp

Small box

VCR/DVD/Bluray

Indoor plant

Small box

Small table

Mirror small

TV flat screen small

Satellite/Freeview box

Small Archive box

Large Archive box

Pictures small
Welsh dresser

Large dining table

Cabinet large

Medium dining table

Sideboard large

Small dining table

Sideboard medium

Bookcase tall

Cabinet medium

Sideboard small

Bookcase short

Cabinet small

Dining chair

Mirror large

Tall box

Pictures large

Large box

Rug small

Table lamp

Small box

Boxed already 3cuft

Mirror small

Pack 6

Small table

Pictures small

Sundry cuft
Bed divan queen size

Bed divan king size

Bed bunk

Bed divan double

Wardrobe single

Wardrobe double

Wardrobe triple

Chest of drawers large

Sofa bed

Bed frame king size

Bed divan single

Bed frame queen size

Futon

Bed small childs

Chest of drawers medium

Chaise longue

Bed frame double

Dressing table

Bookcase tall

Chest of drawers small

Nursery chest/dresser

Bed frame single

Bookcase short

Cot

Play pen

Occasional chair

Trunk

Indoor plant

Chair rocking

Ottoman box

TV flat screen large

Wardrobe

Mirror large

TV stand

Bedside cabinet

Clothes basket

Chair child

Suitcases

Picture large

Pack 2

Table lamp

Boxed already 3cuft

Small table

Pack 6

Mirror Small

Picture small

Sundry cuft
Meeting table

Office desk

Table

Photocopiers

Fridges

Server cabinet 6ft

Computer desk

Filing cabinet 4 drawer

Server cabinet 3ft

Filing cabinet 2 drawer

Swivel chair

Executive chair

Static chair

Computer desktop

Tall box

Fan

Printer

Pictures large

Large box

Desk pedestal

Crates

Pack 2

Boxed already 3cruft

Printer network

Small box

Hard drive

Pack 6

Monitor flat

Fax machine

Archive boxes

Computer laptop

Computer monitor

Sundry cuft

Pictures small
Fridge freezer US style

Freezer chest

Freezer tall

Fridge freezer

Kitchen cabinet

Cooker range

Freezer or fridge small

Washing machine

Dryer

Cooker large

Dishwasher

Cooker small

Table breakfast

Air con unit

Baby high chair

Dehumidifier

Indoor plant

Cabinet small

Microwave

Mirror large

Tall box

Chair breakfast

Picture large

Large box

Pack 2

Stool

Bin

Boxed already 3cuft

Small box

Pack 6

Mirror small

Ironing board

Picture small

Sundry cuft
Trampoline

Pool table

Table tennis table
Cabinet small

Pack 2

Large box

Small box
Sideboard large

Sideboard medium

Sideboard small

Hall table

Mirror large

Pictures large

Large box

Mirror small

Indoor plant

Small box

Pictures small
Tall box

Large box

Small box
Ride on mower

Snooker table 6ft

Climbing frame

Tall plastic shed

Wendy house

Canoe

Garden bench

Picnic table

Swing

Workbench

Garden lounger

Garden chest

Ladder

Portable BBQ

Slide

Large outdoor plant

Garden table

Sandpit

Tool case

Car roof box

Bicycle

Weights machine

Running machine

Exercise bike

Rattan chair

Wheelbarrow

Parasol

Medium outdoor plant

Step ladder

Tool cabinet

Mower petrol

Garden ornament

Tall box

Garden chair

Mower elec

Outdoor bin

Heater gas

Spare tyre

Child's tyre

Skis snowboard

Pushchairs

Strimmer

Small outdoor plant

Pack 2

Boxed already 3cruft

Garden hose

Stacking chair

Folding chair

Golf clubs bag

Pack 6

Sundry cuft
Results
Suggested Sizes
Receive an email with your inventory
The correct amount of self storage container space can massively vary depending on how much stuff you have and the size of certain items. Our self storage size guide calculator gives you a much more accurate idea of which container or combination of containers you'll need. Make sure to include the contents of all your rooms and spaces. Don't forget the garage, loft, basement, and sheds. And remember, you can stack your belongings inside your container to make use of the height.