Congratulations! Moving in together is exciting, but it does present its own set of unique challenges – from splitting household chores, to paying bills, to figuring out how much time to spend together.
So, we've put together 8 top tips from the experts
DECIDE, RATHER THAN SLIDE, INTO MOVING IN TOGETHER
It is important to decide if moving in together is the right next step for your relationship.
It might be tempting to move in together out of convenience. There can be all kinds of reasons — your lease is up, you spend so much time at your partner's place anyway, you'll both save money.
Have an open conversation with your partner about what 'moving in together' looks like – Does one person think moving in together means marriage, while the other doesn't? Would you rather be engaged first? Or are you both okay with simply living together with no further commitment?
Make sure you feel ready — financially and personally — to join lives with another person.
FIGURE OUT WHERE YOU'LL MOVE IN TOGETHER AND WHAT YOU'LL BRING
A lot of people decide to move into the other person's house or apartment, but if you decide to go this route, be careful.
If one of you is moving into the others place, treat it as a new space rather than someone else's old space. The person moving in should have equal say about what stays and what goes, how to decorate, etc. They should feel the space is theirs as much as it is their partner's.
If you are moving into a new rented place, then sign the tenancy agreement together so it feels like an equal partnership.
Talk about what furniture you already have, what you might need and what could go into storage, if needed. Have a good sort out at this stage – it's a great opportunity to get rid of things you may have horded over the years and no longer need.
You'll also want to discuss how you will move in together – will you need a man and a van, hire full-service movers, or use a portable moving container to make moving and storage easier?
TALK ABOUT HOUSEHOLD CHORES AND MONEY
Chores and money are two of the biggest row triggers in a relationship, and it's important to hash out the details before you move in. Who will do the washing or will you each do your own? Who's in charge of cooking and doing dishes? Who puts out the bins?
Money is also a big issue to talk about before moving in together. Have an open and honest dialogue about who is paying for what. Will you split the rent or mortgage, or will one person pay that and the other be in charge of food and bills? Do you put money into a joint account for household expenses or do you keep your own accounts? Different ways work for different people and it's important to understand what will work best for you.
REMEMBER "ME TIME"
Moving in together is an exciting step in a relationship, and you may be tempted to spend all your waking hours with the other person.
But it's still important to maintain your own sense of individuality. Create a little corner of the space that's all yours, like a reading nook or a desk.
Also, be sure to schedule time away from the other person.
If you keep up with your own friends and hobbies it ensures you always have something new and exciting to talk about at the dining table.
MAKE CONTINGENCY PLANS IN CASE OF A BREAKUP
Nobody wants to talk about breaking up when you're on the cusp of something exciting like moving in together, but these types of conversations are important.
Make sure you both have an understanding as to who will get the furniture, who leaves and who stays in the property, and what happens if you're buying property together and you're both on the mortgage.
Make it an open, honest, and loving conversation.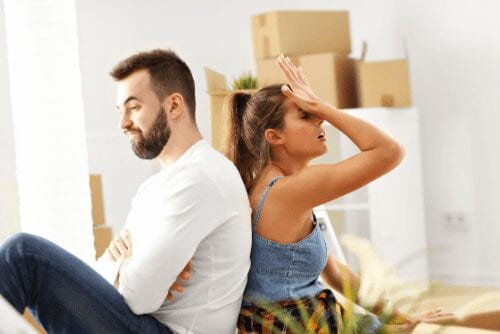 ACCEPT IT WON'T ALWAYS BE PLAIN SAILING
A lot of people approach moving in together, getting married and having kids with a highly romanticised point of view. This is a dangerous way to approach cohabitation because you'll get frustrated when things don't go as planned.
There's an element of sharing domestic life that is just a grind because there are so many points of possible friction. My way vs. your way, my definition of normal vs. yours, my needs vs. your needs.
When you do have conflict in your relationship, focus on the positive and what's going well.
Expecting bumps when you're living together means you'll be able to handle them better, rather than feeling surprised and let down.
COMMUNICATE!
There will be lots to discuss, constantly! You'll be learning as you go along, possibly discovering things about your partner you never knew before. While some of those things might be cute, others might be downright annoying.
What's important is that you communicate.
Communication can make or break a relationship, especially during times of stress.
HAVE FUN!
Moving in together is a unique opportunity to really get to know and have fun with your partner.
Think of new and exciting things to do together, like ballroom dancing, getting a scuba certification, or taking up an outdoor activity like cycling.
When done with open communication and a positive attitude, moving in together just might be the best decision you've ever made.