Organisation, Tips, Ideas and Inspriation!
During the past year we have all spent much more time in the kitchen! Whether your kitchen is small and compact or large and spacious, we could all do with some kitchen storage tips to keep things tidy and organised. We have put some of our favourite tips together in the article below to give you some kitchen storage inspiration!
DECLUTTERING YOUR KITCHEN
Kitchens tend to be a bit of a dumping ground, especially the worktops or island. Try and leave your keys, paperwork, bags and letters where they belong rather than keeping them in a pile on the worktop. Sort through them as you go and bin what you don't need when it comes to post! The more you can maximise your kitchen storage space the better! By having a mini declutter once a week (putting things back in their rightful place) you can really make a difference to the space.
The kitchen is the heart of the home and it's true what they say – you will always find people migrate to the kitchen during parties! After all it's where the food and drink will be!
MAXIMISE YOUR SPACE
If you're in a small apartment you can maximise space by hanging things from the ceiling such as pots, pans and utensils. This means they are always at hand and you do not have to dig around at the back of the drawer for your whisk or ladle.
Equally this can make a great feature in a larger kitchen – perhaps above a kitchen island.

If you are lucky enough to have a pantry or store cupboard you have probably trawled Instagram and Pinterest for kitchen storage hacks. They are full of handy ideas for storage and pictures of beautifully organised and arranged pantries – below are some of our favourites!
Kitchen Storage Inspiration
Pantry beautifully organised with glass jars and baskets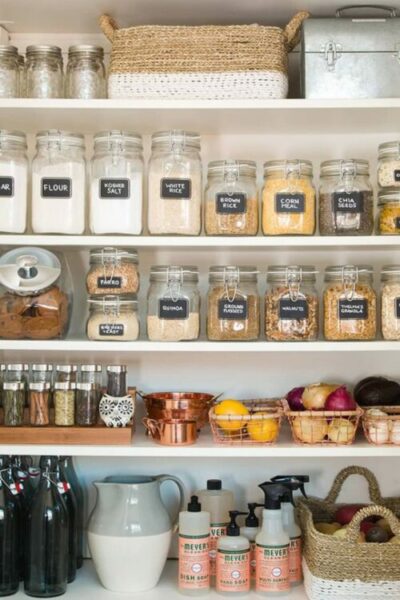 Pastel Kitchen and Pantry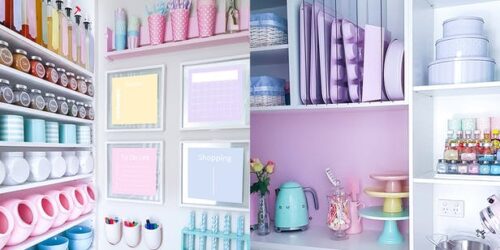 Wicker basket kitchen storage inspiration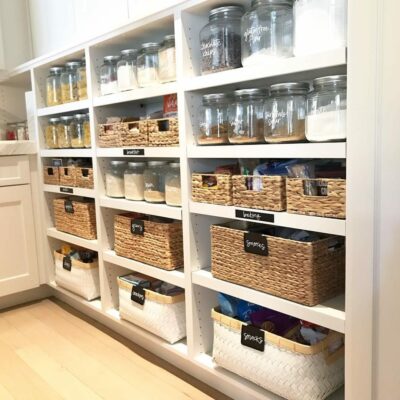 Chelsea Thomas has some great kitchen storage tips and inspiration!
CUPBOARD DOOR KITCHEN STORAGE HACKS
To maximise space in your cupboards – don't just put things inside the cupboards – you can make extra storage space inside the door just by adding a cheap file holder!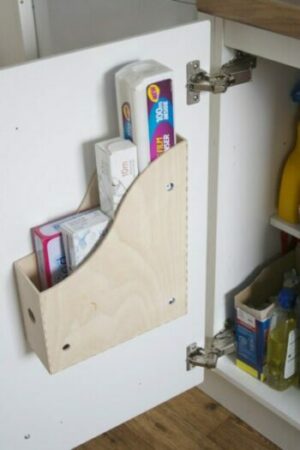 Or – instead of a spice rack taking up valuable wall space – fix it to the inside of a cupboard door to maximise your kitchen storage!

KITCHEN STORAGE – MAKE IT YOURS
The kitchen is a room that can easily descend into chaos without the right kitchen storage in place. No matter how many cupboards you're working with, the best kitchen storage hacks and techniques will help your space work well for you. Evaluate what you truly need in your kitchen and how you use the space. Get rid of items you no longer use, those that are broken or have seen better days. Organise the space so the things you use the most are at the top of drawers or are easily accessible. Things that you only use once in a while store up high or at the back of deep cupboards so you don't have to constantly move them in order the get what you need! Then you'll be on your way to setting up a kitchen where you can focus on whipping up your culinary delights rather than getting stuck in cupboards trying to find the things you need!