Gone are the days when the amount of stuff you own is a sign of status. There was a time when the more stuff you had crammed into your house, the higher your status would be!  Alas, that idea has had its day, we'll show you how to declutter your house in a day!
Nowadays, more minimalist homes are the fashionable choice. Clean lines, simple decoration and beautifully curated objets d'art are in vogue. That's a pity. Especially if you've spent years acquiring lots of 'stuff'.
It's just so disappointing to find you're totally off-trend. Never mind, it's time to declutter, skip, sell and put away for the future.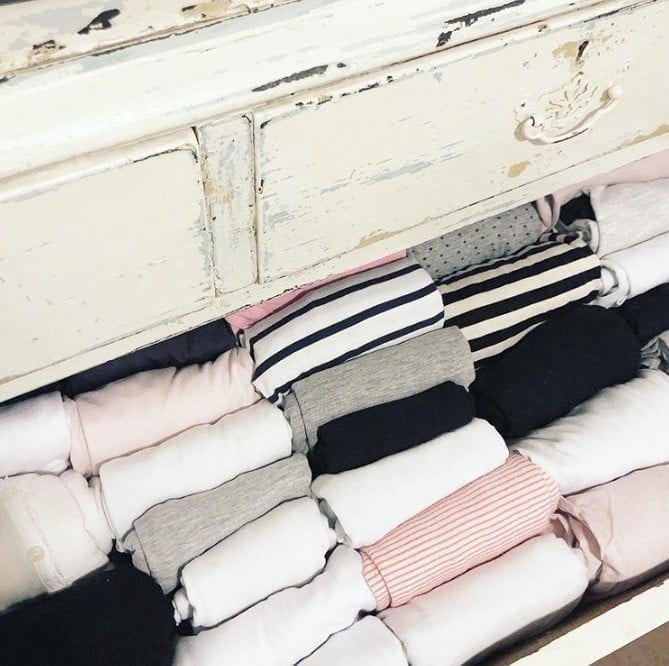 But who has time to declutter?
Ah yes, the one thing people don't have enough of – time. Fear not. Here at PODS storage we've put our heads together and come up with our top 5 tips to help you declutter your house in a day. Yes, just one day to more room, modern living and less stress. Sound good? Ready to Mary Kondo your home? Ok let's go…
Rational Choices
Before starting, make some decisions. Set parameters about what stays and what goes. Then decide the courses of action. Our suggestions are:
Keep

– they still fit with the 'new you'

Dump

– take them to the tip

Sell

– list on eBay. You'll be surprised what people will buy

Recycle

– give to charity or re-purpose

Store

– call PODS to put them safely away
Some choices will be easy. Tragic ornaments, unused kitchen appliances or stacks of old magazines are classic 'no brainers'. Other items may have you scratching your chin. Use your gut and keep a clear head. If there's an item that would feel like a genuine loss but doesn't 'fit' any more, then storage is the answer. Especially for items you can't part with or will need again in the coming months or years, such as Christmas decorations, baby clothes, toys and your genuine treasures.
Sort out the small stuff
Modern day homes tend to have limited storage space. Be that a lack of cupboards, under stairs space, shelving, garages, sheds or loft-space. Often is not the amount of storage that the issue, it's how it's used. Carelessly stuffed storage areas are a wasted opportunity. Drawers and ill-packed wardrobes are prime suspects here so have a good look and sort through them as space in your home is at a premium.
Packing these places with more care will free up a surprising amount of space. Especially for smaller items. Better still, checking the contents of drawers and cupboards will also yield many items for disposal or storage. Once you know what you're keeping you can use the Mary Kondo folding method to really make the most of the space!
Teamwork
Depending on the amount of clutter you have, it's always worth getting others involved, especially if trying to declutter your house in a day. Assign areas for all the family to tackle. Kids can do their rooms. Husbands can do lofts or garages. Wives and partners can finally address their bulging wardrobes.
Whoever is in charge should set strict guidelines on what you they want doing and by when. Remind the team you want to declutter your house in a day. Not tomorrow or next week. Today! Come on, hop to it!
Charity
It's a nice thought to know that by decluttering your life you could improve someone else's life too. Giving clothes, books, ornaments or furniture to charity can be very rewarding. It's super easy too. At the end of your "declutter your house in a day" project, drop the items off at your favourite charity shop and you're done. You're happy, they're happy. Everyone's happy!
Storage
Just because some things are no longer fashionable does not mean you should get rid. Older furniture can have value. Be that sentimental or monetary. Some ornaments are too precious to dispose of. Some appliances are worth keeping, even if you don't use them at the moment. You may have valuables or items that you don't need "right now" but want to keep them safe for the future, be it for an event or for your children or grandchildren!
In these cases, professional storage will fit the bill. At PODS, we can economically store your items for as long as you'd like. For when they come back into fashion or when you want to pass them on.
So as part of your 'declutter your house in a day' activities, why not book the PODS team to pick up those items that are too good to part with.. PODS storage comes to your door so you can load in your own time as you declutter or the PODS team can even load for you.
Give us a call on 0161 641 7771 to discuss our self storage solutions. Tell us when you plan to declutter, and we'll pop along to take some of the strain away. 

Now, where did I put that?
We hope our tips help you to transform your home and free up space for modern living and a clutter-free life. If you have chosen to store some items with PODS you can be sure they'll be safe and sound.
Happy decluttering everyone!
SaveSave