Christmas is an exciting time of year. It can also be stressful with presents to buy, parties to organise, family and friends to host and also decorating your home for the festive season! We have put together some great Christmas decoration ideas that won't break the bank and will make your home feel all Christmassy and festive for the upcoming celebrations.
So here are PODS Top Tips and great ideas on preparing your home for Christmas!
When you're decorating your home for Christmas you may be wondering where to start. There's the obvious Christmas Tree but they may be in shorter supply this year, so you can get a bit creative with your other Christmas decoration ideas.
Christmas garlands are a versatile option and can be used on staircases, bannisters, fireplaces, mantles and even as a dining table decoration or centre piece – they don't have to cost the earth either. You can buy pre-made ones from as little as £14.99 on Amazon or if you're feeling crafty you can even make your own. Pick up a cheap garland and decorate it with berries, flowers, baubles, pine cones or whatever you fancy! Hobbycraft is a great shop for all your bits and bobs for Christmas decoration ideas.
Inspiration from Pinterest below.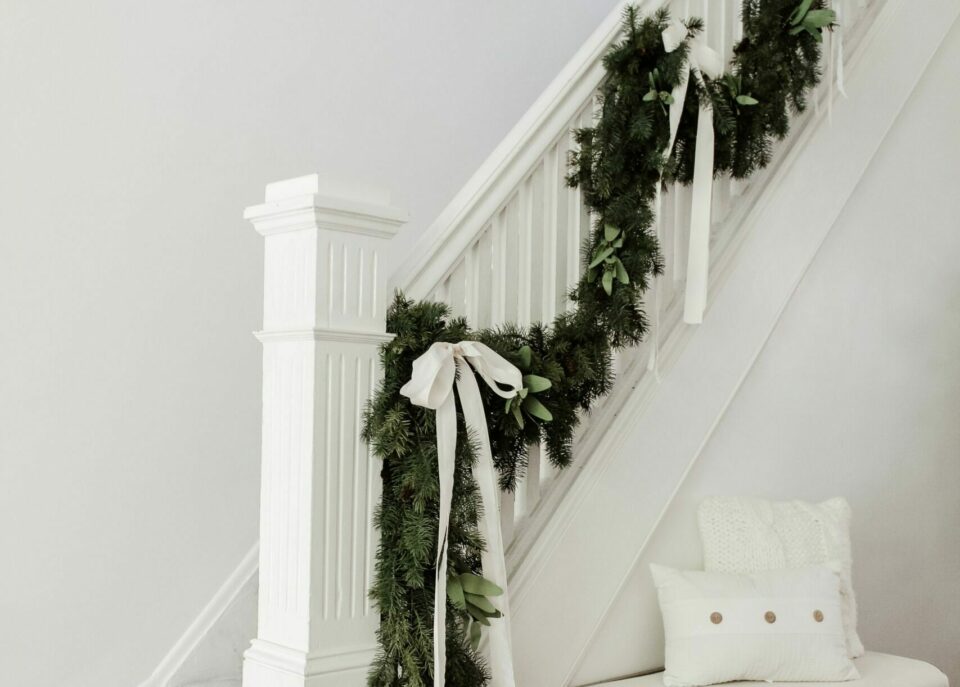 Simple Garland with white bows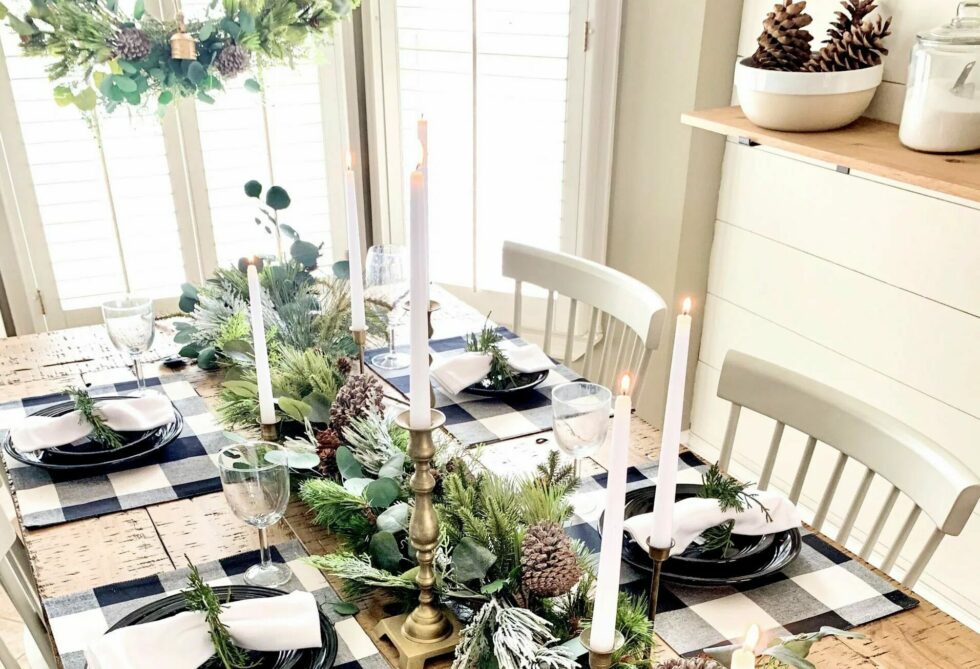 Garland Table Decoration Ideas
Speaking of banisters, you can get really creative with some cheap fake snow blankets and make a snowy banister.  Proper Manchester shared this Christmas decoration idea, which includes penguins sliding down the snowy handrail having the time of their lives!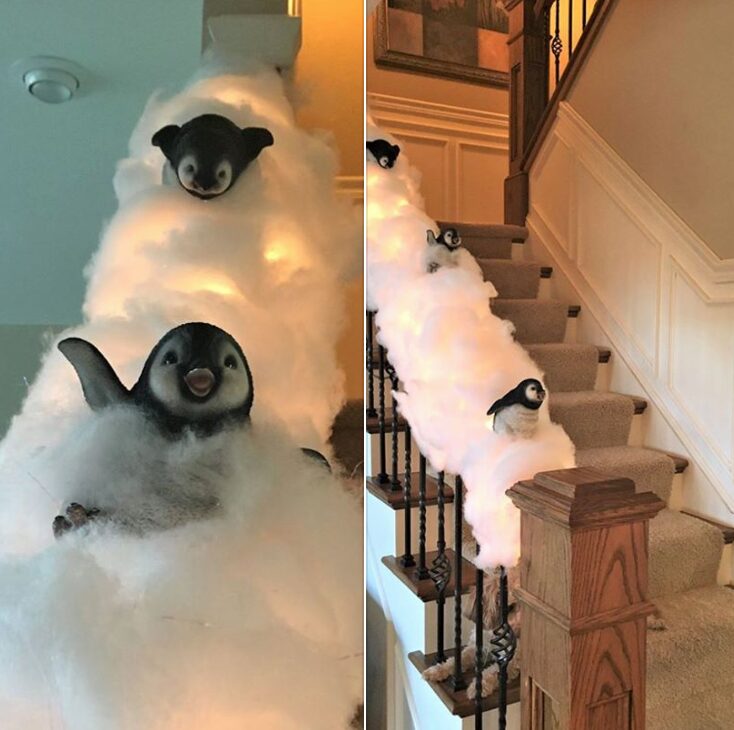 Proper Manchester Facebook Image
FRONT DOOR CHRISTMAS DECORATION IDEAS
When it comes to your front door and entrance you want it to feel as Christmassy as possible. There's nothing better than coming home to twinkling lights and a festive front door. There are some great front door Christmas decoration ideas, such as:
A Christmas door bow – you can make your own from tulle or buy it ready made and jut fit it yourself
Snowflake stickers if you have glass panels in your front door
Traditional Wreath
Bauble wreath
Icicle lights
Or even these unique Nutcracker door hanging banners – a bargain from Amazon as they can be reused year after year. They are made of super strong material and can be hung inside or outside!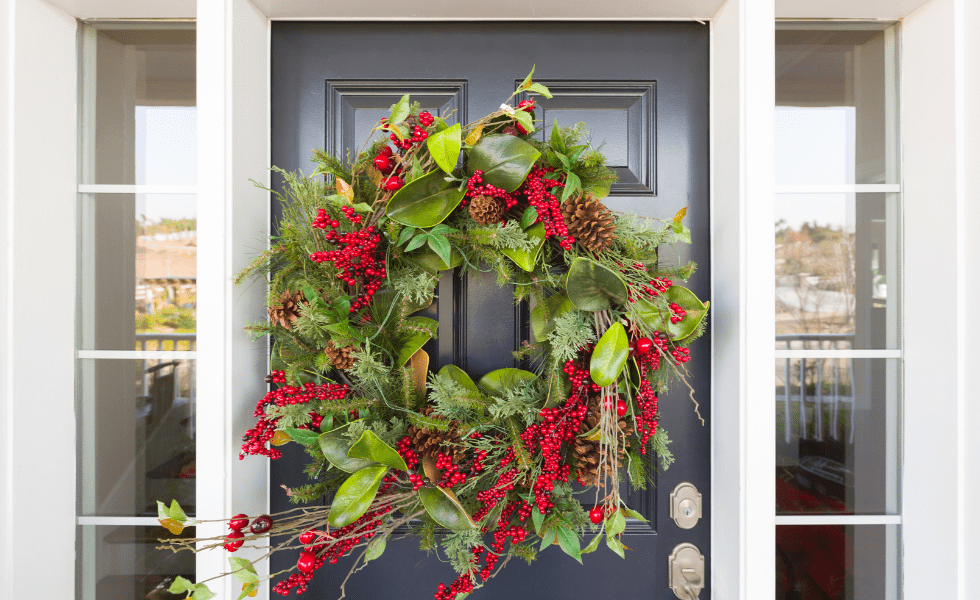 CHRISTMAS WREATH IDEAS
Christmas wreaths are getting more and more creative each year. You can now even go to wreath making workshops in the run up to Christmas. Check out your local florists or see a list of wreath making events in Manchester here.
Your Christmas wreath doesn't have to be traditional though – anything goes these days. Candy canes, dried fruits, baubles, glitter, pampas grass, flowers and ferns – you name it you can put it on your wreath!
You can even take inspiration from this wreath and make your own using just an old wire coat hanger and a pack of mixed baubles! We told you our Christmas decoration ideas won't break the bank! You can find full instructions on making your DIY coat hanger wreath on Country Living.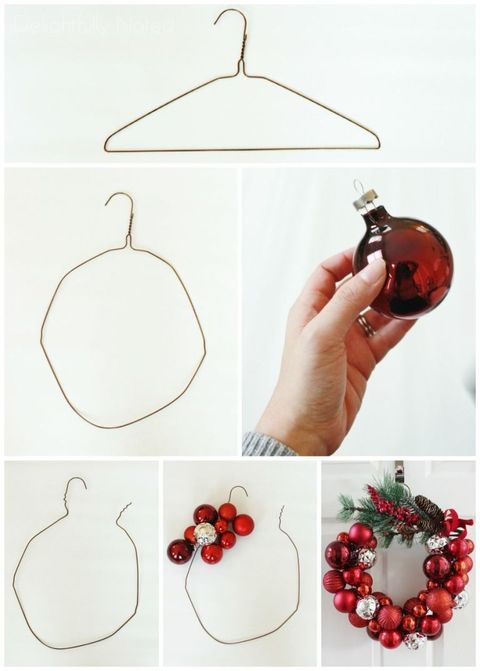 THE MAIN EVENT – THE CHRISTMAS TREE!
Decorating a Christmas tree can feel like a mammoth task – you can theme it with colours like red and gold or have a candy cane red and white theme. Maybe you don't like anything too themed and want a whole variety of decorations. If you're super girly why not take some inspiration from this pink tree from TheMarklandHome last year.

They say you can't have too many Christmas decoration ideas when it comes to your tree. You can plan it all out or just make it up as you go along. Whatever you do make sure you enjoy it – you can even get the whole family involved with your tree decorating.
So there you have it… A few of our best Christmas decoration ideas and tips! If you end up with so many decorations that you don't know where to store them all, try a small PODS 7ft storage unit. It's around the size of a small box room so perfect for decluttering and storing seasonal items.
Have a great time decorating for Christmas and remember – it's not what's under the tree but who is around it.
PODS