At PODS we are always looking to help local Manchester charities and when vInspired contacted us we were more than happy to help and tailor a moving and storage solution to suit their needs.
We found that they needed a portable self storage solution to hold and transport stock donated for their new Oxford Road Shop. One of our PODS Containers provided the prefect solution which means  they can grow and help the local community in Manchester.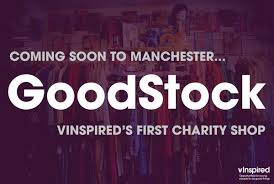 They can have 24 hour access at our Manchester Storage Centre to drop off and collect items and when they need the PODS Container delivering to the shop the stock can in effect come directly to them, without any hassle.
Below is a message from the Team at vInspired:
vInspired would like to give a massive thank you to everyone at PODS for their generous donation of a storage PODS container.
vInspired are a leading UK youth charity who believe that young people's creativity, energy and optimism can change the world. They are dedicated to helping under 25's improve their skills, confidence and employability whilst making a difference to the things they really care about, through volunteering and social action.
vInspired are opening a charity fashion store called Goodstock in the centre of Manchester in November, this store will offer local volunteering opportunities for young people to develop valuable retail and entrepreneurial experience.  In the lead up to the shop opening vInspired have asked companies across Manchester to hold donation drives and to get their staff to bring in clothes for us to sell in store and raise vital funds for vInspired.
Sarah Hertzog – Head of Corporate Partnerships, vInspired
"Thank you so much to the team at PODS for their kind support of vInspired. The POD they have donated to us has been absolutely vital to us.  Having this extra storage facility as enabled us to press forward with securing stock ahead of the exciting opening of Goodstock in November.  It's been fantastic to have such a supportive partner who are so committed to making a positive difference in their local community".
If you are a business in Manchester and could benefit from some portable secure business storage get in touch with PODS today for our great business storage rates and see how we can streamline your business.
You can also connect on Facebook, Twitter, Instagram and Google to keep up to date with PODS.