We have moved a few local celebs with their moving and storage needs over our time at PODS. From footballer Emmerson Boyce to the lovely Chelsea Norris, Leanne and Wes Brown (and some that want to remain anonymous!) and now Hollyoaks soap royalty Sarah Jayne Dunn is the latest to sample the PODS service!
SARAH JAYNE DUNN'S STORY
Sarah came to us needing a moving and storage solution as she was moving out of her old property and going to a rental until her beautiful new home was completed and ready for her to move into! This is a predicament more and more people are finding themselves in, whether there are delays with completions, building work on new homes is taking longer than expected or people are breaking the moving chain to put themselves in the strongest position of being a cash buyer.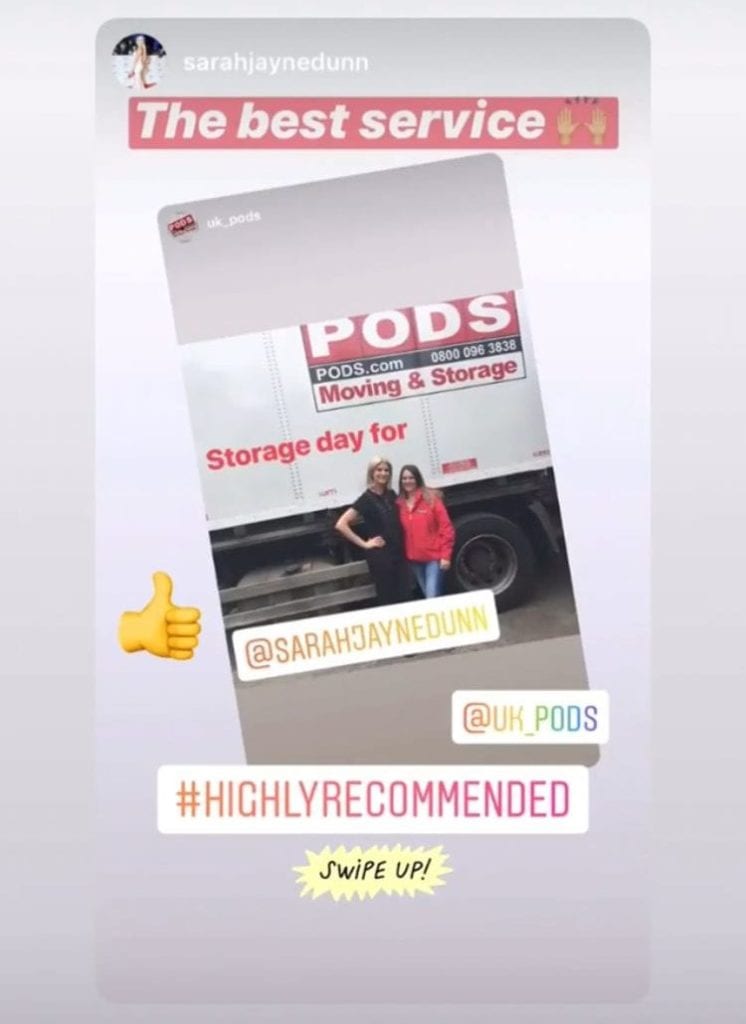 After Sarah got in touch with us we visited her at home to assess her items (pre COVID) and the concepts that would work best for her and we tailored a moving and storage package just for her.  We will go through everything over the phone and on email with you prior to you making a booking at present (edit 2021) . If you are unsure on the services you need or what is the best option for you just ask our team and we will be more than happy to help. Once we had worked through the logistics for Sarah's moving and storage requirements and confirmed moving dates we were ready to get started!
Sarah had one of our PODS containers which the team loaded and took away to store the majority of her items and we also provided a small removal service to her rental property at the beginning of the Summer. The PODS container was securely stored at our Manchester warehouse storage depot (where we have full CCTV, appointment only access and 24/7 security guards) until her new home was ready to move into. We then delivered it back to her door so she could unload on her own schedule. We then also completed another small removal from her temporary rental over to her new home with all the essentials she had needed to keep with her! Phew – it was a busy one!
WHAT DID SARAH THINK OF THE PODS SERVICE?
"PODS completely took away the hassle of moving house, we used them for moving and storage and it was the perfect service for us.
The guys were super efficient and our storage goods were packed away with care and ease. Having a storage container meant we didn't have the additional stress of having to transport and unload and then reload and transport our storage goods and having the services booked as one package with one company made the whole process much easier."
You might have seen Sarah sharing her PODS experience over on  her Instagram and she now has a great new Instagram page dedicated to inspiration for furnishing and decorating her new place @the_interior_dunn – give her a follow!
Proof that PODS is perfect if you're schedule is a little bit unpredictable or you need multiple moving or storage options. We can build a tailored solution that is both cost effective and flexible. You can read more here about the benefits of using PODS storage containers.
If you could do with a tailored moving and storage service then please give us a call on 0161 641 7771 or email us on [email protected] now with your requirements. All our quotes are free and are come with no obligation to book. We think you will be hard pushed to find a like for like service at PODS competitive prices!
Until next time…
PODS