Cash for Kids would like to thank everyone at PODS – Moving and Storage for our donated storage PODS Container here @ Rock FM!
PODS – Moving and Storage are proud to support the Cash for Kids Charity and Rock FM. Our PODS Container is used by the guys and girls on site at Rock FM in Preston for storing various items but the main reason it's there is to store all the donated toys and gifts for the annual Toy Appeal. This is such a fantastic cause and we know how limited space is in the Cash for Kids office so we are more than happy to help! We even donated storage for the hundreds of pink ducks used for the Charity Duck Race!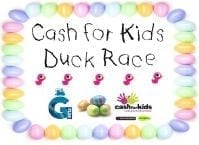 Our PODS containers can be used for on site storage, portable self storage, moving house, business storage, event storage and much more. Based from our self storage depot in Manchester we service the whole of the North West and across the country too.
We deliver one of our PODS Containers when and where you need it, you fill it up and we can transport it wherever it needs to go, or you can keep it at your address for as long as you wish. We also have a designated removal team so if you need a hand with loading or unloading we can help.
Rose – Charity Executive for Cash for Kids commented:
"We can't thank Rachel, Scott and the amazing team at PODS for their support for Cash for Kids over the past few years. The POD they have provided us with has been a saviour and we are so grateful to them for helping us facilitate so many parts of our biggest appeals – particularly at Christmas! We strongly recommend you turn to PODS for all your moving and storage needs – You can certainly rest assured you're using the best company for the job who also provide massive support to their local community through Cash for Kids."
For Moving House, Self Storage or a combination of both, PODS have the answer for you!