PODS help thousands of customers each year with their moving and self storage needs, and businesses are no exception! PODS give you the luxury of loading and unloading on your own timescale as we work entirely to your schedule. Recently we helped Computer Monitoring and Control (C-MAC) move their entire operation from one side of Manchester to the other at short notice.
How we did it?
We delivered and collected multiple storage containers over the course of a week for the client to load their equipment and office furniture into. The containers were then taken away to be stored at our secure storage facility in Manchester until their new office was ready.  As each unit is individually numbered the client could pick and choose which container was delivered back on a chosen date to suit their needs. The clients unloaded each PODS container into their new office premises on their timescale, making the moving process easier and less stressful and at the end of the process all containers were collected and the guys at C-MAC are now all settled into their new business premises.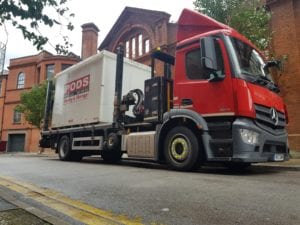 Kevin at C MAC said:
"Without PODS we could not have met deadline – PODS provided an excellent service for us in executing an office relocation at short notice and with very tight timescales, compounded by two bank holiday weekends. With PODS we were able to clear our office to storage to meet the vacate deadline and, as the new office became available, they moved swiftly to ensure we were able to unload our 5 x PODS to our new location. I can honesty say that without PODS we would not have been able to meet the deadlines imposed upon us. The staff, from Scott at the top through to Rachel, Helen, Diane and Jordan the man with the van, were all extremely helpful. Thank you."
PODS for your Business
Using PODS gives you a unique, combined moving and commercial storage solution for your business.With PODS there are no tight timescales, you can take your time and minimise office disruption during the move, making it a seamless transition from one building to another.  PODS are also a more cost effective option when compared with traditional and expensive removal firms.
And it's not just office moves we can help with – PODS business storage gives the option of on-site storage, warehouse storage, peak time storage, storage during building work or renovations and much, much  more!
Benefits of PODS Containers for a Commercial Customer
PODS provide so many benefits for our commercial customers such as:
Our solutions are scale-able for businesses of any size. Whether you need 1 container or 20 we can accommodate your needs.
We work with your timeline instead of making you stick to ours, so everything is always in the right place at the right time, just where and when you need it.
Giving you the choice of storing your container on-site or in our secure PODS storage centre. Either way, our ground-level containers and storage centre appointment system mean you have easy access to your items.
Give you all the time you need to load and unload your container — scheduling is flexible, so if things change, it's simple to keep your container for longer.
The ability to deliver you container across the UK
And so much more. Read more about the benefits of PODS storage containers here.