Hassle Free House Moving Service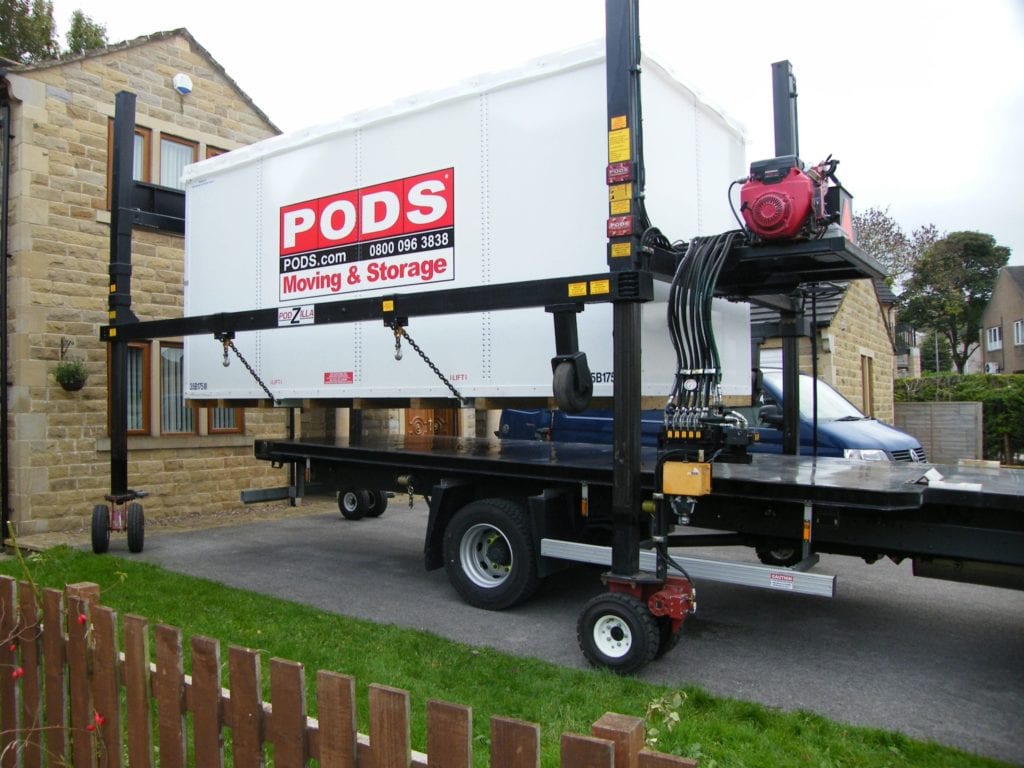 We Deliver
We deliver an empty PODS moving container to your home, whenever and wherever you need it.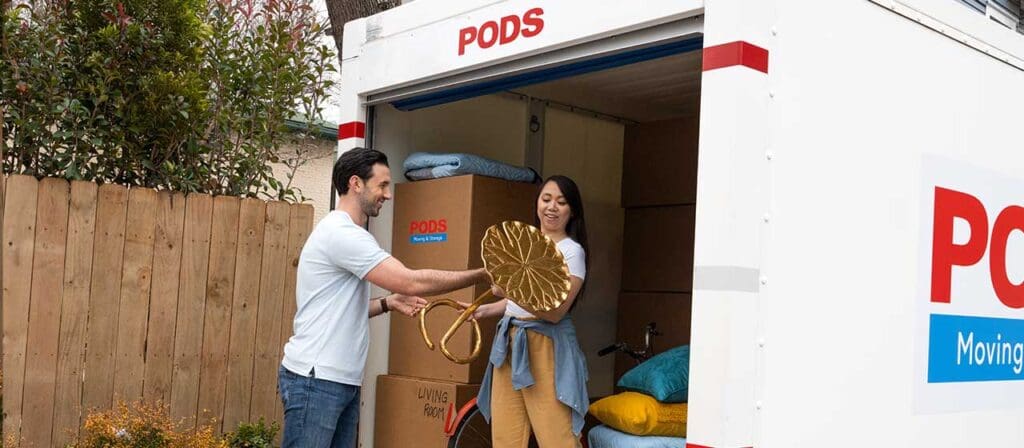 You Load
Load your PODS container your way and in your own time. Take a day, a week or even months.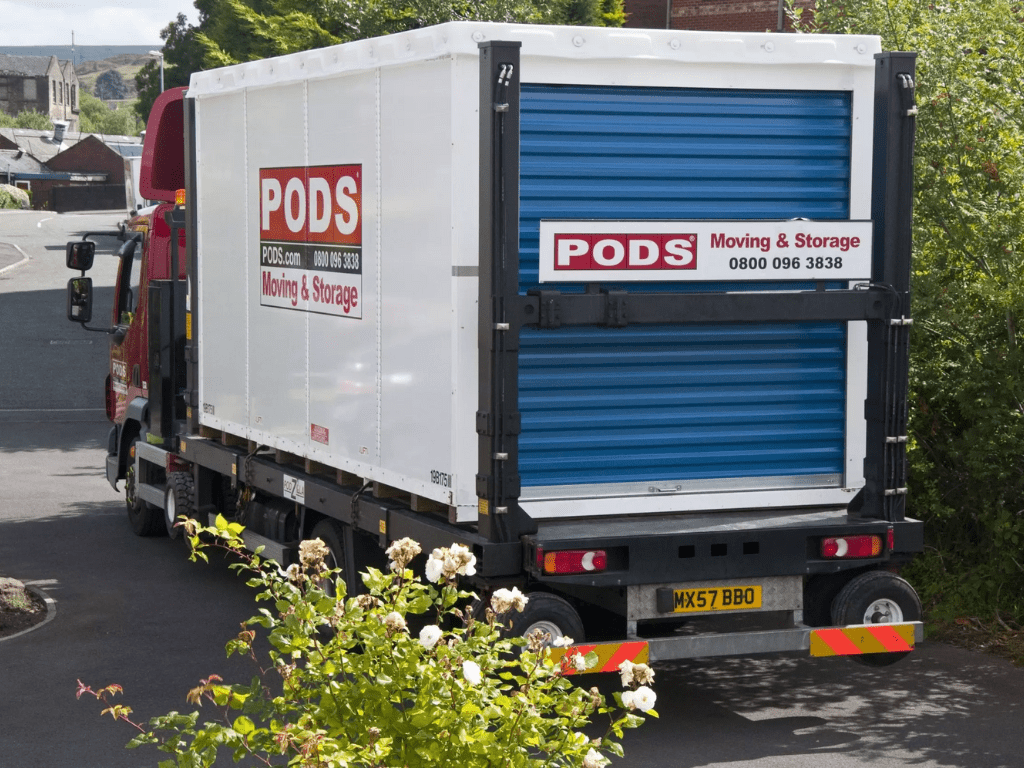 We Move
When you're ready will collect and move your container to your new home.
A Local Moving Solution Built Around You
PODS revolutionised the way you can move house and store. Gone are the days of expensive removal companies, moving all in one day or hiring a van and breaking your back lifting furniture in and out of a van or truck.
PODS put you in the driving seat for the whole of your moving service. We deliver an empty container on a day to suit you. You can choose to load over a weekend, a few days or even weeks. When you"re ready we will collect and move your container to your new address (we can store it too) and you can unload in your own time. Give us a call when it's empty and we will collect it.
Using PODS for Moving House
1. We Deliver
We deliver a PODS container days or even weeks before your move, so you can take your time to load.
A PODS container is delivered directly onto your driveway or land and can stay there for as long as you need to load it up.
Our PODS containers are designed to be breathable.  They have a wooden floor and special e-track system inside so you can secure furniture to the sides of the container with ease.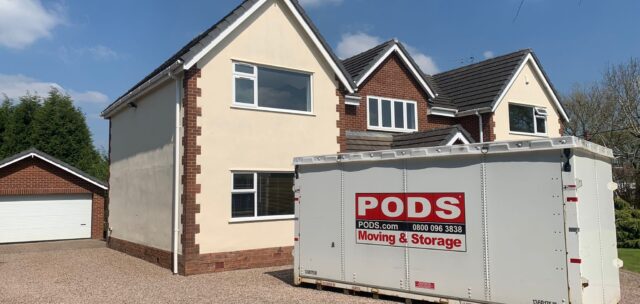 2. You Load
Load your things bit by bit so it's not so overwhelming and you can clean the house as you pack and load.
Loading with a PODS container means you load at ground level and your home is free from boxes and clutter as you pack.
We also sell a range of boxes and packaging materials that you can purchase from us and we can deliver inside your container ready to go!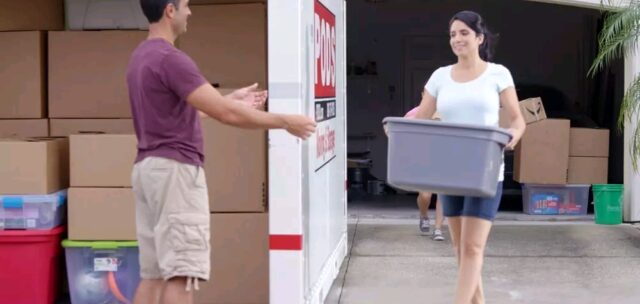 3. We Move
On moving day we can collect your container and move it straight to your new house. If you need it to be stored temporarily (or longer term) we can take it to be stored at our depot too. Our service is designed to be super flexible.
Once moved you can take your time to unload your container. Do it bit by bit to minimise the stress or keep things in the container if your property needs some TLC or renovations. We will collect when you let us know that your container is empty.
With PODS you get 4 weeks hire of one of our Large 16ft PODS containers, we do all driving. Initial delivery of your container when and where you want it, pick-up and move to your new house, then the final collection of the empty container – it couldn't be simpler.
PODS is perfect if you:
want to move on your own schedule
want to take the stress out of moving house in Manchester and Stockport
want to move yourself over the space of a week or longer
need to store if you're in between properties
are breaking your moving chain
are having renovations or building work done on your new property and only want to unload a the essentials until the work is finished
need access to your items on your driveway at all times while you're moving
The possibilities are endless with a PODS container. If you're Living in Manchester and our moving house soon – read our handy blog article.
3 Easy Steps for House Moves in Manchester
Moving in Manchester really can be as easy as 1,2,3 when you use PODS.
Our customers mention the flexibility our service offers them, especially when the house moving market and chains can change at the drop of a hat. Our service is also much cheaper than traditional removals as you can take your time to do the moving of your items yourselves. You don't have to pick a specific day to load and unload everything. With a PODS Container you can load a little bit at a time. It's easier to get people to come and help as you can load over a weekend or  a few weeks. You could even host a packing party for friends and relatives to help.
They say moving house is one of the top most stressful things you can do in your life. At PODS, we believe it doesn't have to be that way. Moving House using a PODS container and our unique PODZilla lifting system can be fun and even a bit exciting! These are the feelings you should be having when moving house locally in Manchester or Stockport. So if you're looking for an alternative to local Manchester removal companies – look no further, you've found PODS.
When you choose a PODS container to move house – it won't cost you thousands of pounds and mountains of stress. It's a cheap, easy and flexible alternative that comes with a whole host of benefits when comparing with traditional removal companies.
PODS Container Sizes can be found here. The 16ft is our most popular size for house moving in Manchester.
Manchester is a great place to live – here are some handy links if you're moving to the area
Manchester City Council Website. Here you can check your bin day, order a new bin, check council tax, look for local facilities, schools and so much more!
IloveManchester.com A great site for all things Manchester – food, drink, events, community, activities, businesses and more.
Wondering where to start with planning your move? Why not read our Moving House Checklist blog